The Economic Landscape and Emerging Trends

Skillwork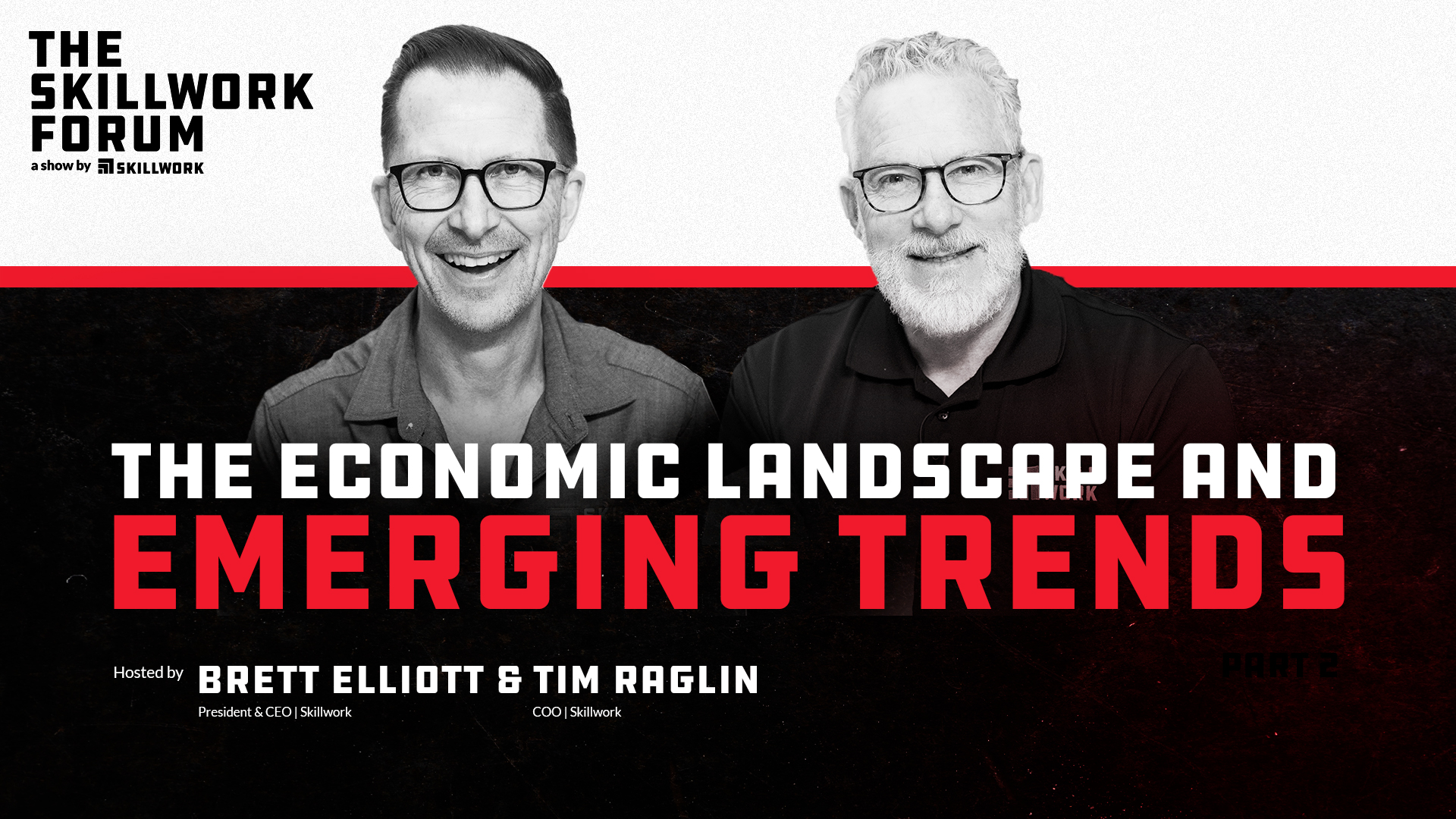 Welcome to another episode of The Skillwork Forum! Today, we're digging into the manufacturing industry outlook, exploring the latest trends and what they mean for you.
Manufacturing Industry Outlook
As we step into the final quarter of 2023, it's a perfect time to take stock of the economic landscape, both domestically and globally. At Skillwork, we're all about the skilled trades, and manufacturing, in particular, so let's see what's on the horizon.
Wages: The Good News
First on our agenda is wages. This topic is crucial for both employers and employees. In general, wages have increased 4.2% year-to-date. Construction and manufacturing wage growth rose about half a percent in August and continued to rise in September.
The average hourly wage is nearing $27—depending on where you live—a 5.7% growth over the past 12 months. While inflation is a concern and outpaced wage growth at its peak, the year-to-date inflation rate now stands at 3.7%, allowing for a 2% real growth in the value of workers' wages.
Inflation: Easing the Pressure
Speaking of inflation, it's been a hot topic lately. Initially, the projections for inflation weren't very optimistic, and many expected it to remain high. Fortunately, it seems that inflationary pressures are beginning to ease.
We might be seeing a return to more manageable levels (2.5% to 3.5% compared to 9%) by the middle of 2024, which is great news for everyone's wallets. Some are calling this the "Great Rate Reset." For business owners, it's essential to stay informed and prepared for these changes, especially if you're planning to borrow money.
GDP: A Key Metric
So, how's the country doing overall? Gross Domestic Product (GDP) is the number that captures how much we're producing as a country. Interestingly, and positively, it's growing quarter over quarter. While there might be a hiccup in Q4 due to the looming government shutdown, the economy is on a soft recovery path with less fear of a deepening recession.
The Job Market: A Tight Squeeze
The job market is still tight, especially in the skilled trades, and it looks that way for the foreseeable future. Demand is on the rise, so employers are frantically increasing wages to attract more workers, but the supply just isn't keeping up. However, there is some good news.
The labor force participation rate – the number of working-age, eligible people actually participating in the workforce – is slowly improving, reaching 63%. For prime-age workers (25 to 54), it's at 83.5%, which is the highest it's been since 2002. But those aged 55 and above are at a meager 38%. Unfortunately, those are really your high-end skill guys with decades of invaluable experience.
Here are several ways to overcome the skilled trades gap and prepare for the future of the manufacturing industry:
Consumer Spending: From Products to Services
Consumer spending trends are shifting. During Covid-19, people were buying durable goods for their houses like exercise equipment and big-screen TVs because they were home all day.
Post-pandemic, people are moving away from purchasing durable goods and toward services like travel and entertainment. If you've been waiting for airline tickets or hotel fees to drop so you can go on vacation, that's probably not happening anytime soon.
Global Manufacturing Trends: Onshore vs. Offshore
The global manufacturing industry outlook shows some significant changes.
China, often seen as a manufacturing powerhouse, is experiencing financial instability. Europe is grappling with increasing recessionary pressures, posing significant challenges to the European Union. Additionally, the ongoing conflict in Ukraine and the events unfolding in the Middle East are also shaping the global economic landscape.
So, "Is manufacturing coming back to the U.S.?" These shifts, in addition to the CHIPS Act, might accelerate the process of onshoring manufacturing back to the U.S. However, changes in the manufacturing industry are not without challenges, posing one major question:
Where do we find the people to meet the demand in onshore manufacturing?
We're essentially on the cusp of a U.S. manufacturing boom that rivals the growth in the 1940s and 1950s, so your recruitment strategy needs to start now.
Skillwork: A Travel Staffing Agency for the Trades
In summary of this manufacturing industry analysis, we're seeing a "resilient expansion."
At Skillwork, we're excited about what the future holds for the skilled trades, and we want to get you ready for it. As a skilled trades recruitment agency, we take a unique travel staffing approach that allows tradesmen to travel to jobs anywhere in the country.
Whether you're a tradesman looking for a new opportunity or an employer seeking skilled workers to augment your workforce, we can help you navigate this dynamic sector.
We hope this manufacturing industry outlook was helpful. Stay tuned for more insights from The Skillwork Forum, and remember that skilled trades offer incredible opportunities. Thank you for being part of the Skillwork family!