Advantages to a Travel Model for Skilled Tradesmen (Recruit Perspective)

Skillwork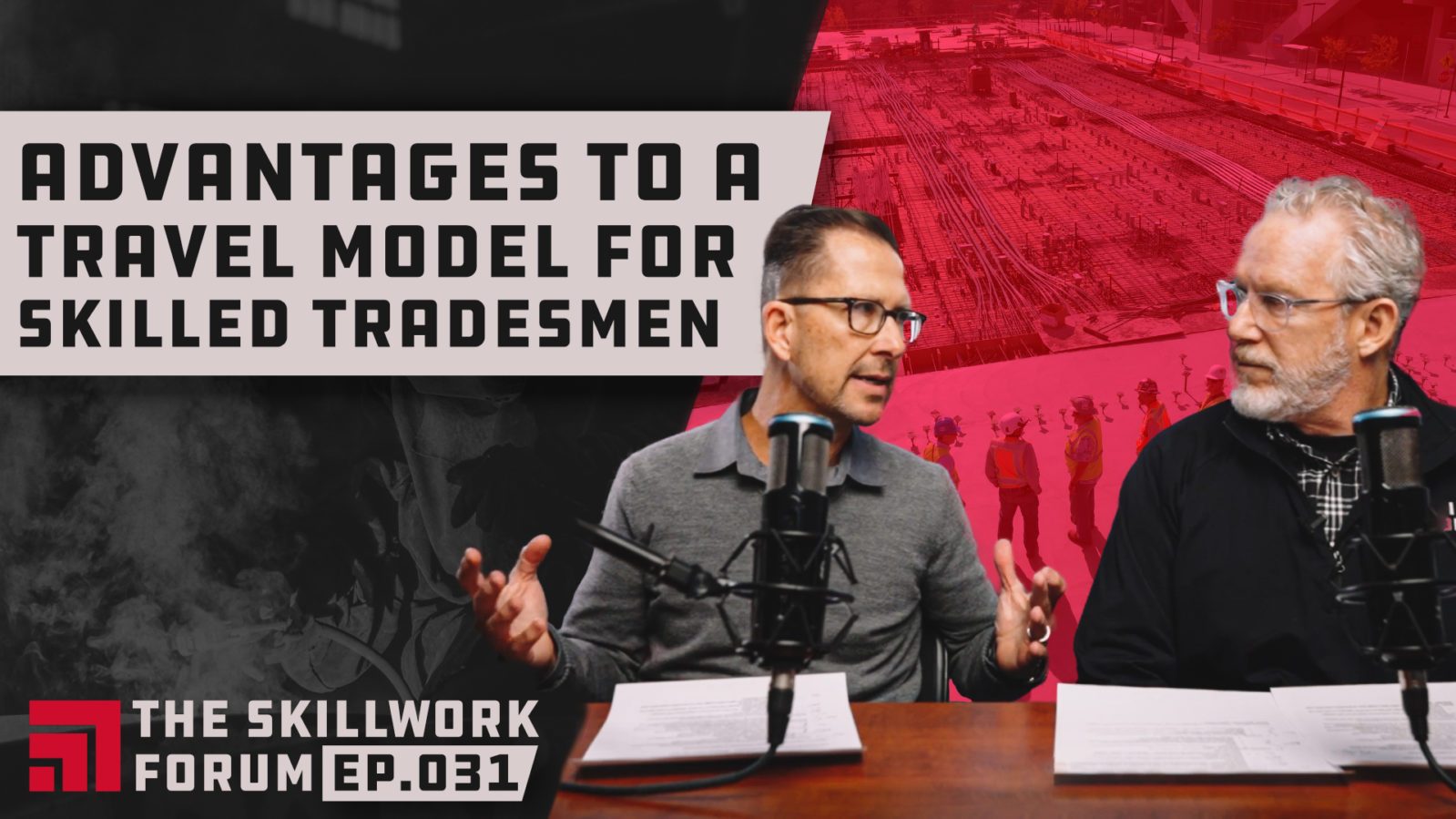 "Why should I move locations to work with Skillwork?"
Travel staffing for the skilled trades is an effective model for our clients in the trade industries, but what about skilled workers? Why would you move to a different area or even to a different industry for a new job opportunity?
In this episode, we're combining the essentials of how we operate with what we've learned from our Skillworkers along the way. Working with Skillwork you can expect to:

Have freedom and flexibility


Get fresh perspective and new opportunities


Feel truly respected for your career in the trades


Explore the country and places that interest you


Have freedom to express your faith, values, and patriotism
If this resonates with you, you can get in touch obligation-free with one of our recruiters on our website, www.skillwork.com, or click here


Main Takeaways:

With Skillwork, you can try something different or transfer your skills to a new industry.


We have short to long-term placements available all across the country.


Work with a Recruiter to find the right fit for you—we want you to feel fulfilled in your job.


Our top priority is making our Skillworkers feel respected by both us and our clients.
Timecodes:



00:00-4:53 | Why skilled craftsmen embrace the travel model…


4:53-8:12 | Finding new jobs for workers in the oil and gas industry


8:13-11:26 | How to get the highest wages available for your skills


11:27-13:50 | Getting a fresh start with upward mobility


13:51-16:37 | Do you feel taken for granted in your current job?


16:38-19:53 | Travel and adventure—not just for college students and retirees


19:54-22:41 | Freedom to express your faith and values


22:42-24:10 | How you can get started with Skillwork
Quotes:

"One of the things that we can offer you as a skilled tradesmen is the opportunity to make sure that you're getting the highest paid wages available for your skills." – Brett Elliott

"The main thing is that we're working for you and have a vested interest in you and your prosperity and happiness." Tim Raglin

"A lot of the time, you just need a clean slate." Tim Raglin

"We have multiple stories of Skillwork guys that have become permanent employees of some of our clients and elevated to supervisory roles." Brett Elliott

"Your recruiter's job is to make sure you have everything you need to do your job, that the next opportunity is lined up for you." Tim Raglin

"They get to explore parts of the country they never thought they would explore, and they're making a great wage while doing it." Tim Raglin

"When we say value and respect the trades, we recognize that the trades built this country." Brett Elliott

"So many of the guys I talk to about our core values are taken aback that it's okay to talk about honoring God, being proud to be an American, being proud of our country, that we honor military veterans." Tim Raglin

"For those of you who are happy where you are, doing a great job, you're turning a wrench every day—you're keeping America moving. We just want to say thank you for what you do for our country. We're grateful for you every day for doing that." Tim Raglin

————————————————-
Connect with Skillwork: