"The Golden Age" of Skilled Labor - Opportunity and Growth for the Skilled Worker

Skillwork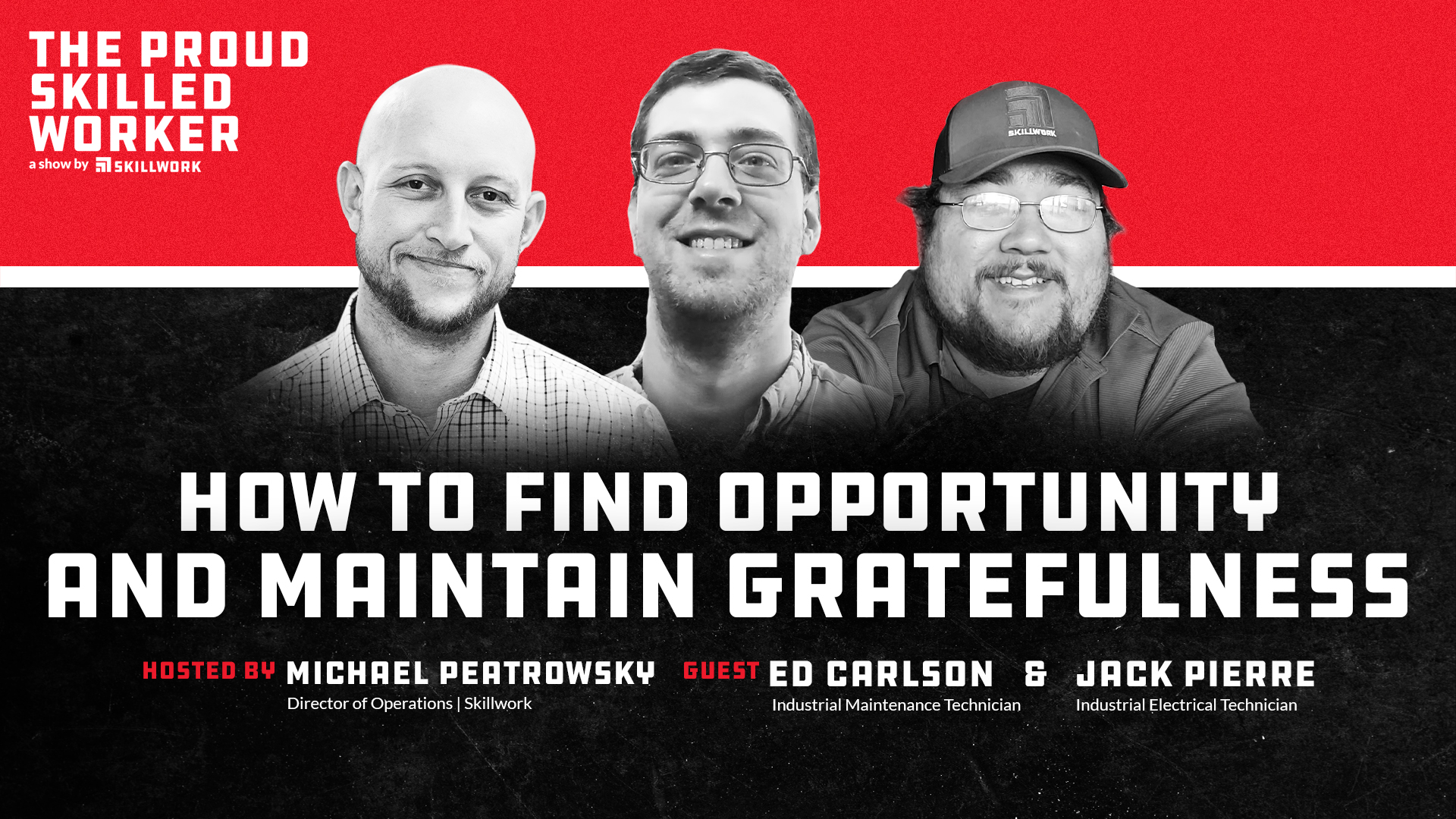 The skilled labor shortage has been the hot topic of the year. At Skillwork, we have invested time and resources into figuring out how to adapt to and overcome it.
Although the shortage has made it difficult to adequately staff their maintenance teams, the benefits it has had on behalf of the skilled worker cannot be overstated.
Rising wages, limitless opportunity and an increase of value and respect for the skilled tradesmen are just a few of the advantages of the current labor crisis.
In this episode of
"The
Proud Skilled Worker", host Michael Peatrowsky sits down with industrial maintenance technicians, Jack Pierre and Ed Carlson. Together, they discuss the amazing opportunities available in the trades for the skilled worker.
If you're interested in pursuing a career in the trades, or if you're a company looking for strategy on how to adapt to the current climate of the industry, this episode is for you!
For more information on these topics, check out our website at skillwork.com/resources.
Main Takeaways:
|
Industry changes have increased the need for skilled tradesmen to upskill.
|
A well-rounded maintenance team means more resources for a company to pull from when a troubleshooting need occurs.
|
Family values and a higher quality of living are attracting young people to the trades industry.
|
The labor shortage is requiring companies to think outside the box when trying to meet maintenance needs.
Timecodes:
00:00
-0
7:32
|
The main factors attracting young people to the trades
07:33
-
12:50
|
Trajectory and turning points in the future of the trades
12:50
-
19:48
|
The cause of the need for companies to shift to hiring well-rounded technicians
19:48
-
26:34
|
Family, faith and the power of gratitude
Quotes:
"
A
s far as specialization goes, I would stop pushing the mindset of,
'Y
ou're
gonna specialize as an electrician or mechanic
',
and start pushing the mindset of specializing as an industrial maintenance technician. To know all of the machinery is to know how all of it works, how to troubleshoot it, and get it running again.
" -
Ed Carlson
,
Industrial Maintenance Technician
"Thirty to forty
years ago, departmental places worked great
.
B
ut this is a different day and age, and our numbers are decreasing daily
.
B
aby boomers are retiring, and we're losing people way faster than we're gaining.
" -
Jack Pierre
,
Industrial Maintenance Technician
"
The workers that are coming into the field
—
it's kind of all over the board. You have some people that come from trade school
, and t
hen other people
don't have the experience and rely solely on other guys teaching
'em.
"
-
Jack Pierre
,
Industrial Maintenance Technician
"
I think the better route is more well-rounded training. If everyone has all of the skills
,
then it doesn't matter how many people are tied up
.
I
f you've got even one person free, they can go take on that next breakdown
,
or
continue working on that PM or whatever needs to be done.
" -
Ed Carlson
,
Industrial Maintenance Technician