How To Get Out of Your Comfort Zone and Adopt a Positive Mindset

Skillwork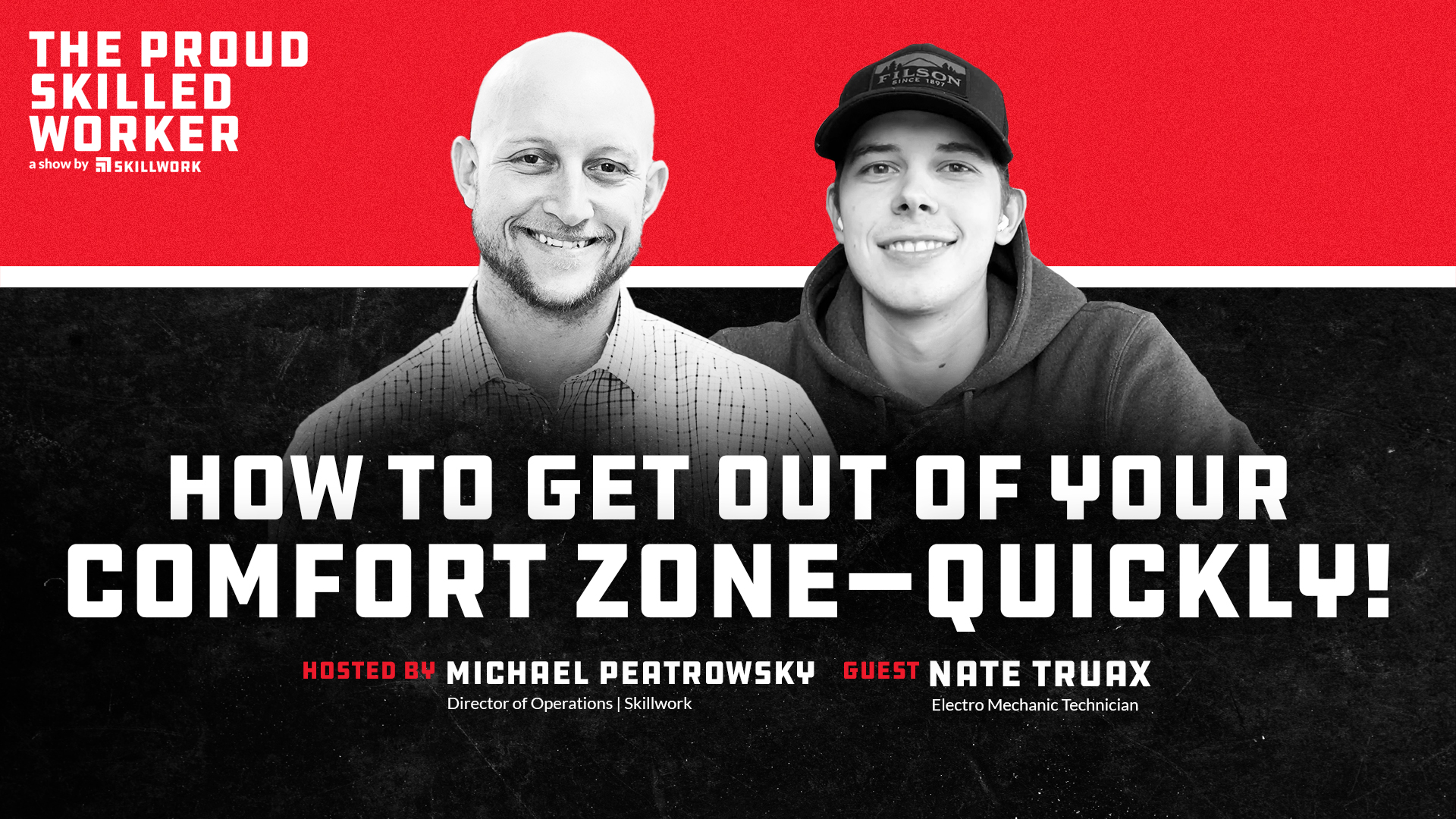 At Skillwork, we know that our skilled tradesmen are faced with difficult situations.
We also know that with the right mindset, there is nothing they can't overcome!
Perseverance coupled with a positive attitude is the recipe for a successful career in the trades—and Nate Truax is a perfect example of that combination!
In this week's episode of
"The
Proud Skilled Worker", host Michael Peatrowsky sat down with electro maintenance technician, Nate Truax. Together, they discussed Nate's methods of troubleshooting, filling in the gaps in his knowledge, and how he overcame difficult situations with the power of a positive mentality.
To hear more about how reframing your mindset can help you become successful in the trades, check out our latest podcast episode, or connect with us as skillwork.com/resources.
Main Takeaways:
|
Combining formal training with on-the-job training can prepare you for the workforce.
|
Both manuals and your coworkers can be tools that aid you when troubleshooting.
|
Having a positive attitude can make all the difference in your career.
|
Getting out of your comfort zone gives you more opportunities to learn and improve.
Timecodes:
00:00
-
02:58
|
The benefit of combining formal training with on-the-job training
0
2:58
-
06:04
|
How manuals and people act as tools while troubleshooting
0
6:04
-
08:03
|
How filling in the gaps in your knowledge makes you a well-rounded technician
0
8:03-11:47
|
Characteristics of a person with great work ethic
Quotes:
"
If you look through the manuals, there are always a lot of troubleshooting tips, but a lot of the guys that I've worked with have always been helpful. If you ask them for help and they've experienced it, they'll show you how to do it." - Nate Truax, Electro Mechanic Technician
"
When I was a mechanic, I wouldn't call one of the more experienced electrical guys just to come over
,
look at the problem
and figure it out for me
. I would work on it myself and figure it out
. - Nate Truax,
Electro Mechanic Technician
"
Get out of your comfort zone
and take all the opportunities you can to expand your knowledge
.
A
t the end of the day, the more you know, the easier your job is
.
W
ith more knowledge and experience comes more money, and we all like that.
" - Nate Truax,
Electro Mechanic Technician
"
Take any opportunities you can
.
T
ry to expand your fields
. Get
more training certifications
. S
how up to work and work hard.
" - Nate Truax,
Electro Mechanic Technician