How To Live Your Dream and Enjoy It for the Long Haul - with Joey Hughes

Skillwork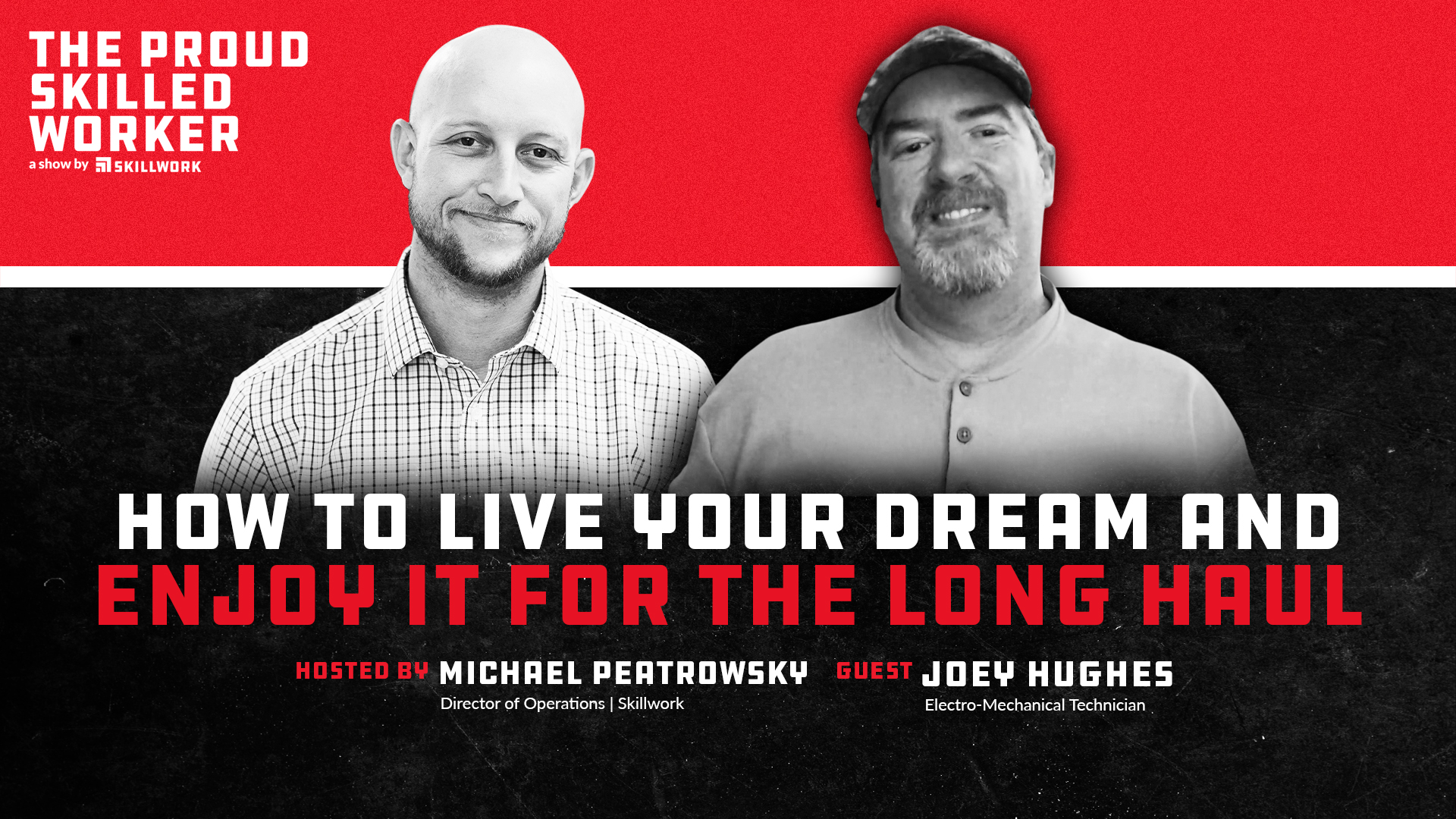 They say if you love what you do, you'll never work a day in your life.
We are the guys that like to take things apart and put them back together, but so many of us have been told that we must go to college and earn a four-year degree to earn a decent living.
We at Skillwork are here to tell you that there's another way! You don't have to go to college to be successful. You can do what you love and earn a great living doing it.
In this new episode of
"TPSW",
host Michael Peatrowsky and guest Joey Hughes discuss the old stigma around entering into the trades as a career path—and how new opportunity and mind-sets are changing the way people view the skilled trades industry.
If you're someone looking for an alternative to a time-consuming, expensive college degree, check out our latest episode to see how a career in the trades might be right for you.
Main Takeaways:
|
People are beginning to realize that there is extensive opportunity to make great money in the trades.
|
Learning a skilled trade is a great alternative to going to college.
|
Certification programs allow you to learn a specific skill at a fraction of the cost compared to college tuition.
|
The key to overcoming self-doubt is believing in yourself.
Timecodes:
00:00
-
05:04
|
The mind-set shift regarding the ability to be successful when joining the trades
05:04
-
10:41
|
The biggest challenge skilled tradesmen face
10:41
-
17:10
|
How Joey's love for trades began
17:10
-
23:36
|
Joey's advice to skilled workers in the industry
Quotes:
"The
good thing about the trades is you don't have to spend seven years in college to be able to it. Plus, you're not spending your whole life paying back tuition." - Joey Hughes, Electro-Mechanical Technician
"I
think people are finally starting to realize that there is a lot of money to be made in the trades: maintenance, carpenters, plumbers, and electricians." - Joey Hughes, Electro-Mechanical Technician
"Trades
will always be here. Many times, we are in the background and you never see us or know what we do. That's why I'm so thankful for companies like Skillwork that actually appreciate the tradesmen and women out there and what we do." - Joey Hughes, Electro-Mechanical Technician
"One
of the biggest challenges I see skilled workers face is doubting themselves. The jump is scary, but if you never jump you will never know what can happen." - Joey Hughes, Electro-Mechanical Technician
Connect with Skillwork:
Reach out to Rveal: