How to Solve Problems and Not Compound Trouble - With Kevin York and Henry Gilliland

Skillwork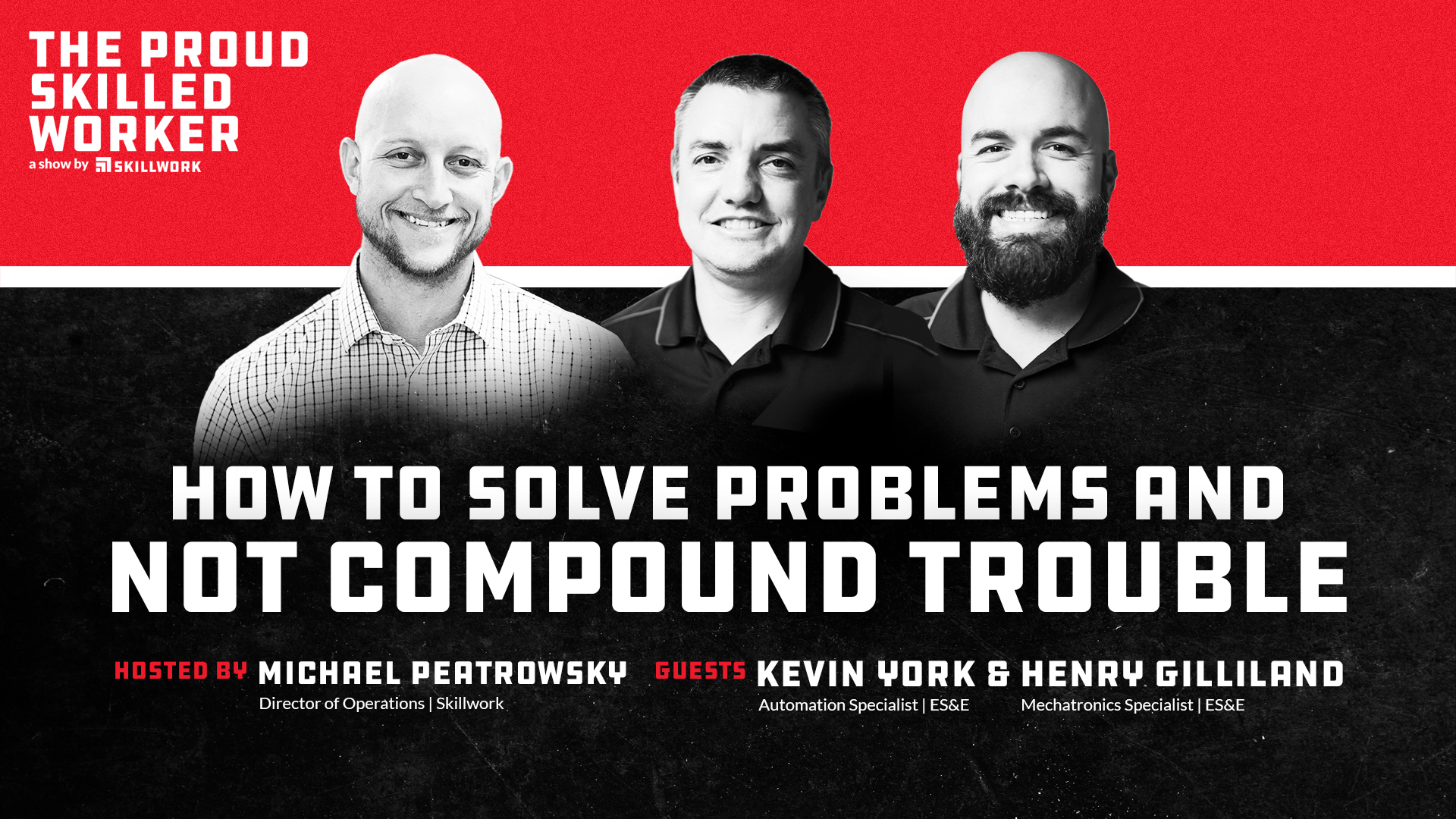 As skilled tradesmen, we're the people that are called in to solve problems.
At ES&E, helping customers solve problems is what their company is all about.
The best resolution happens quickly, smoothly, and without any added trouble or missteps along the way. Kevin York and Henry Gilliland are specialists at ES&E, a company dedicated to providing customers with solution to all problems related to industrial automation.
In this week's podcast, host Michael Peatrowsky sits down with Kevin and Henry from ES&E. Together they discuss the best methods for troubleshooting—and how the best technique is troubleshooting is to make sure things are done right the first time.
If your a skilled tradesman and your processes need a refresher course, this episode was made for you! Tune in wherever you stream podcasts.
Main Takeaways:
|
Asking the right questions while initializing troubleshooting is the most direct way to solve the problem you face.
|
Reading the manuals on a particular machine can make all the difference when troubleshooting.
|
Knowing your operators and utilizing the tools at your disposal will help you fix a machine more quickly.
|
When installing new equipment, follow the recommendations and requirements in the instruction manuals to help reduce the potential of a failure occurring.
Timecodes:
0
0:00-07:14
|
Kevin & Henry's back stories and an overview of ES&E
0
7:14
-
16:26
|
Tips on questions that help speed up the troubleshooting process
16:26
-
21:32
|
The evolution of troubleshooting and which trends to follow
21:32
-
29:02
|
Advice from industry experts Kevin & Henry
Quotes:
"ES&E has been an industrial distributor for 85 years. Today, ES&E is a high-tech industrial automation solutions provider. We help our customers solve difficult problems on a regular basis." - Henry Gilliland, ES&E
Mechatronics Specialis
t
"Two of the best methods in troubleshooting are knowing your operators and utilizing all the tools available to you. Using technology, analytics and diagnostics that come from sensors is the quickest way to get to a solution." - Kevin York & Henry Gilliland, ES&E Specialists
"9/10 times, when there is a problem with a new installation, the problem occurs because the installation wasn't done per the recommendations or requirements of the manufacturer outlined in the manual." - Henry Gilliland, ES&E
Mechatronics Specialis
t
"Asking the questions of how long the machine has been running and what has been done to the machine recently that might have caused the changes would eliminate half to three-quarters of all faults that technicians might chase down." - Michael Peatrowsky,
Direction of Operations
at Skillwork