How to Take Things Slow So You Can Grow

Skillwork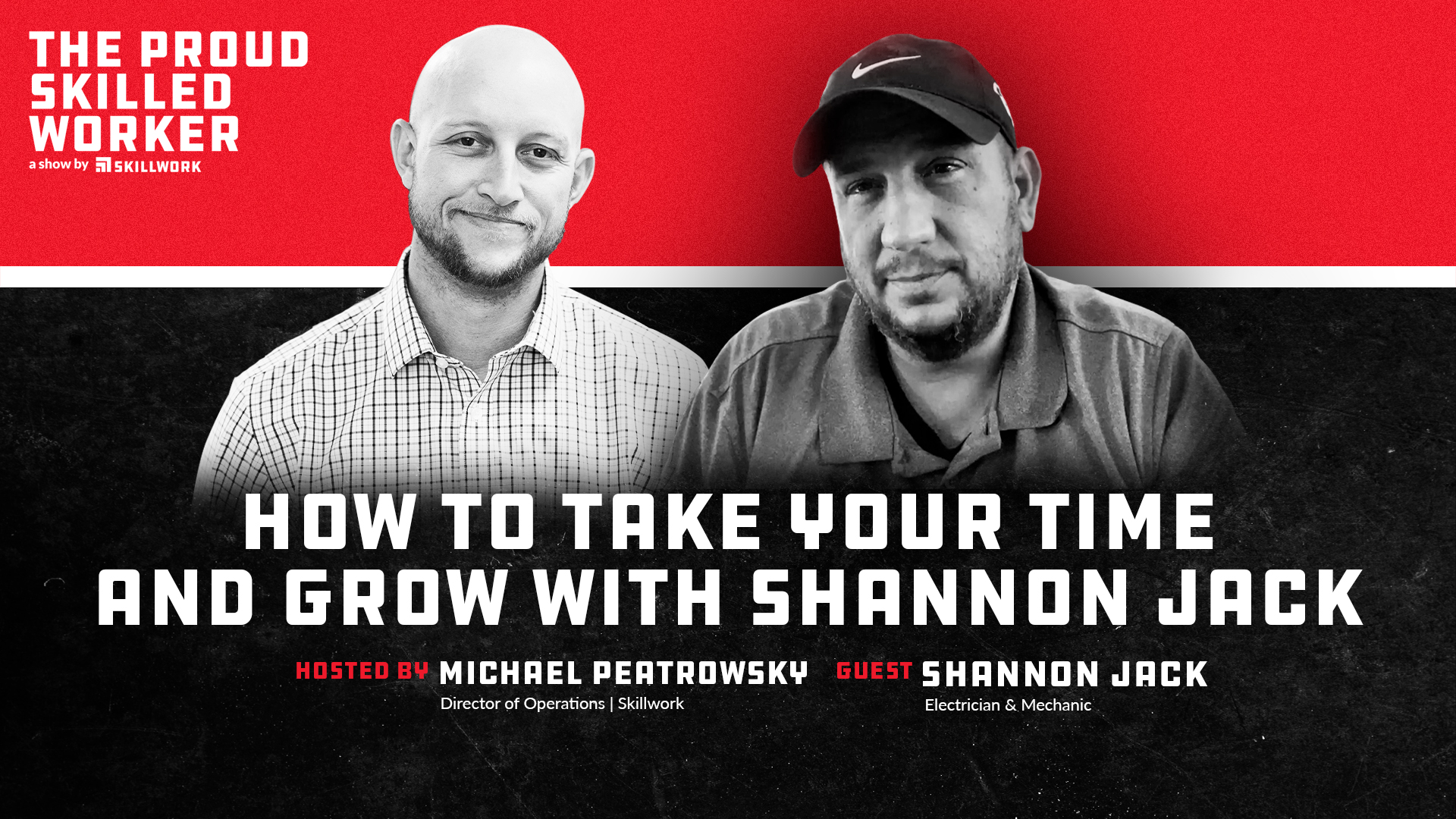 Have you considered pursuing a job in the skilled trades industry, but questioned whether you have the right experience?
At Skillwork, we believe that all your life experiences work together to prepare you for a career in the trades.
Hardware store clerks, military veterans, heavy equipment operators—the experience of our skilled tradesmen is colorful and never ending. Shannon Jack? Well, he's been all three!
In this episode of
"The
Proud Skilled Worker", host Michael Peatrowsky and guest Shannon Jack discuss how life experiences help you grow into your career as a skilled tradesman.
You and your experiences are valuable—don't sell yourself short! To learn more about how you can grow from your experiences as a skilled worker, check out our latest podcast.
Main Takeaways:
|
Taking things slow is the best advice you can have to stay safe.
|
Baby boomers retiring in mass numbers is creating opportunity for skilled tradesmen.
|
Getting a new position doesn't mean you're starting over from scratch—your experience and skills will transfer!
|
Learning the job of an operator will make you more well-rounded as a technician.
Timecodes:
00:00
-0
4:02
|
Overcoming challenges as a maintenance technician
0
4:03
-0
9:57
|
Why the opportunities in the trades is greater than ever before
0
9:58
-
12:44
|
The value of learning an operator's position
12:45
-
17:21
|
The best words a maintenance technician can say
Quotes:
"You might have some hang-ups, but that's the first place you need to go whenever you need to fix something. You need prioritize the place you neglected." - Shannon Jack, Electrician & Mechanic
"Just take it slow. Don't run out there and try to be a hero. The moment you try to show off, you're going to mess something up or cause someone to get hurt." - Shannon Jack, Electrician & Mechanic
"Don't let fear prevent you from getting the job done. Give it a try before you call in more experienced workers or ask for help. That's the way you learn." - Shannon Jack, Electrician & Mechanic
"If you learn the job of an operator, you'll learn the only job you're lacking if you're an experienced technician." - Shannon Jack, Electrician & Mechanic
Connect with Skillwork:
Reach out to Rveal: