The Great Resignation: The Real Cost of Turnover

Skillwork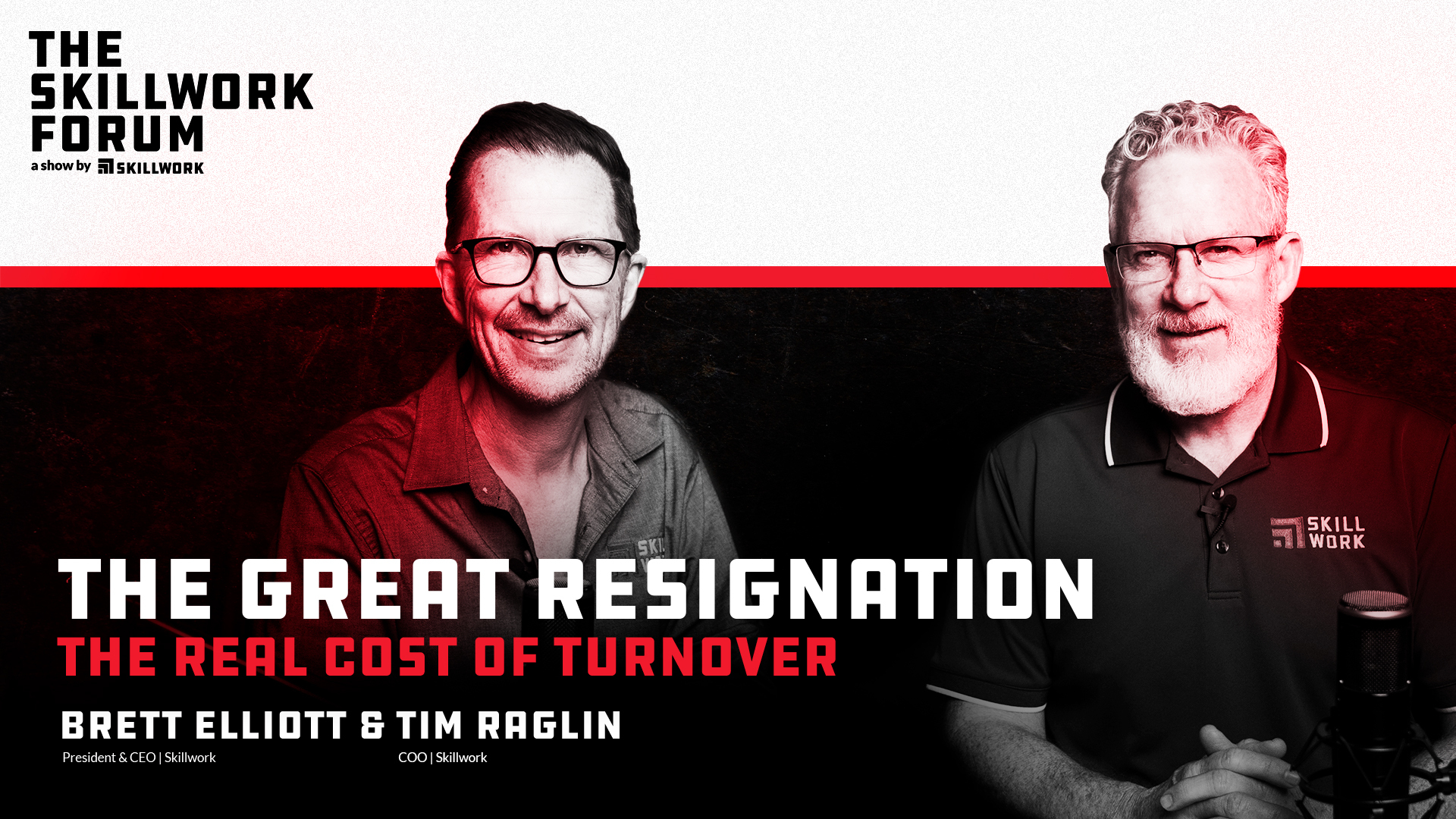 It's no secret that industries are facing an unprecedented loss of employees.

In what has been called "The Great Resignation" or "The Big Quit", companies in all industries are faced with the complexities of:

🛠 Losing employees
🛠 Costs involved in re-hiring
🛠 The impact of being understaffed on company culture

🎙️ In the latest episode of The Skillwork Forum, Tim and Brett discuss the latest statistics and realities that many business leaders are facing today with their workforce.

If you are a business leader or have found yourself impacted by this high turnover rate and lack of employees to fill vacancies, this episode is for you.

Main Takeaways:

🛠 Industries are losing employees at a higher rate than ever before
🛠 Business leaders need to learn to mitigate the consequences of the employee exodus
🛠 The cost of high turnover to your business and productivity
🛠 How does high employee turnover affect your business culture?
🛠 What you can do to retain your current employees
Timecodes:
⏰
00:00
-
02:24
| The Great Resignation or The Big Quit in America
⏰
02:24
-
08:00
| The current statistics that will affect unemployment
⏰
08:00
-
17:45
| Why are employees leaving their jobs?
⏰
17:45
-
24:15
| The cost of high turnover for your business
⏰
24:15
-
27:35
| How vacancies affect your current employees
⏰
27:35
-
31:52
| What is the long-term cost of turnover to your company culture?
Quotes:
💬 "55% of Americans who are employed or looking for a job said they were likely to look for a new job in the next 12 months." - Tim Raglin
💬 "77% of Gen Zers and 63% of millennials plan to job hunt." - Tim Raglin
💬 "Studies project 1 in 3 employees will leave their job in 2023 where most companies are being affected." - Tim Raglin
💬 "The Great Resignation is real—it's here, and it's not likely to improve overall in the short term, but you can mitigate the risk, adjust to the changing dynamics, and seek alternative solutions to help your organization persevere the storm." - Tim Raglin
💬 "Culture eats strategy for breakfast every day." - Tim Raglin
💬 "Great leaders face a challenge head-on." - Brett Elliott
💬 "You really need to think about the impact to your existing or remaining employees when they see you not addressing the issue of employee vacancies." - Brett Elliott
💬 "A big part of our job is risk management and you've got to face this and do something about it—you can mitigate the risk, you can adjust to the changing dynamics, you can seek alternative solutions and we can help." - Tim Raglin
💬 "There there is a path to working through this and the great leaders and the great organizations will get ahead of it. " - Brett Elliott
Connect with Skillwork:
Reach out to Rveal: