The State of Industry 4.0 Manufacturing [Part 1]

Skillwork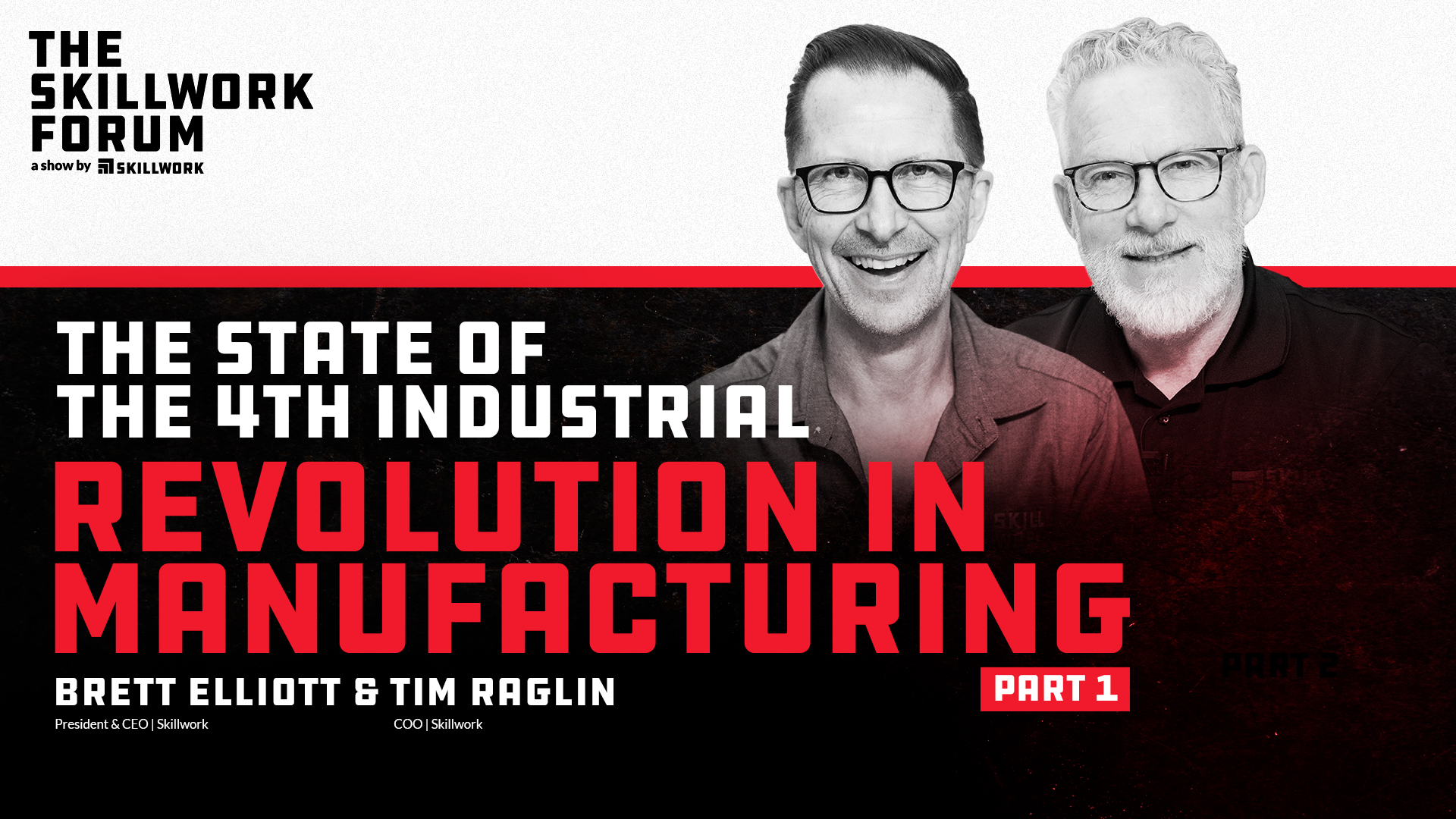 On this podcast, The Skillwork Forum, we discuss trends, issues, and really anything surrounding the skilled trades. Today is the first part of a two-part series on the Fourth Industrial Revolution (Industry 4.0) and smart manufacturing.
Our most recent episode, "What Is Smart Factory Automation?" featured our friend Jake Williams, an expert in smart manufacturing technology and automation. He referred to an industry white paper by Rockwell Automation on the state of smart manufacturing that piqued our interest, so we'll dive into that today. Right on its heels, another white paper came out called "The State of Digital Transformation in Manufacturing" by L2L.
The Rockwell paper surveyed over 1,300 respondents from around the world, while the second paper by L2L focused more on leadership, surveying about a hundred senior leaders from the manufacturing sector.
Let's jump into some of the key points from these papers and share some of our insights on smart manufacturing vs. Industry 4.0.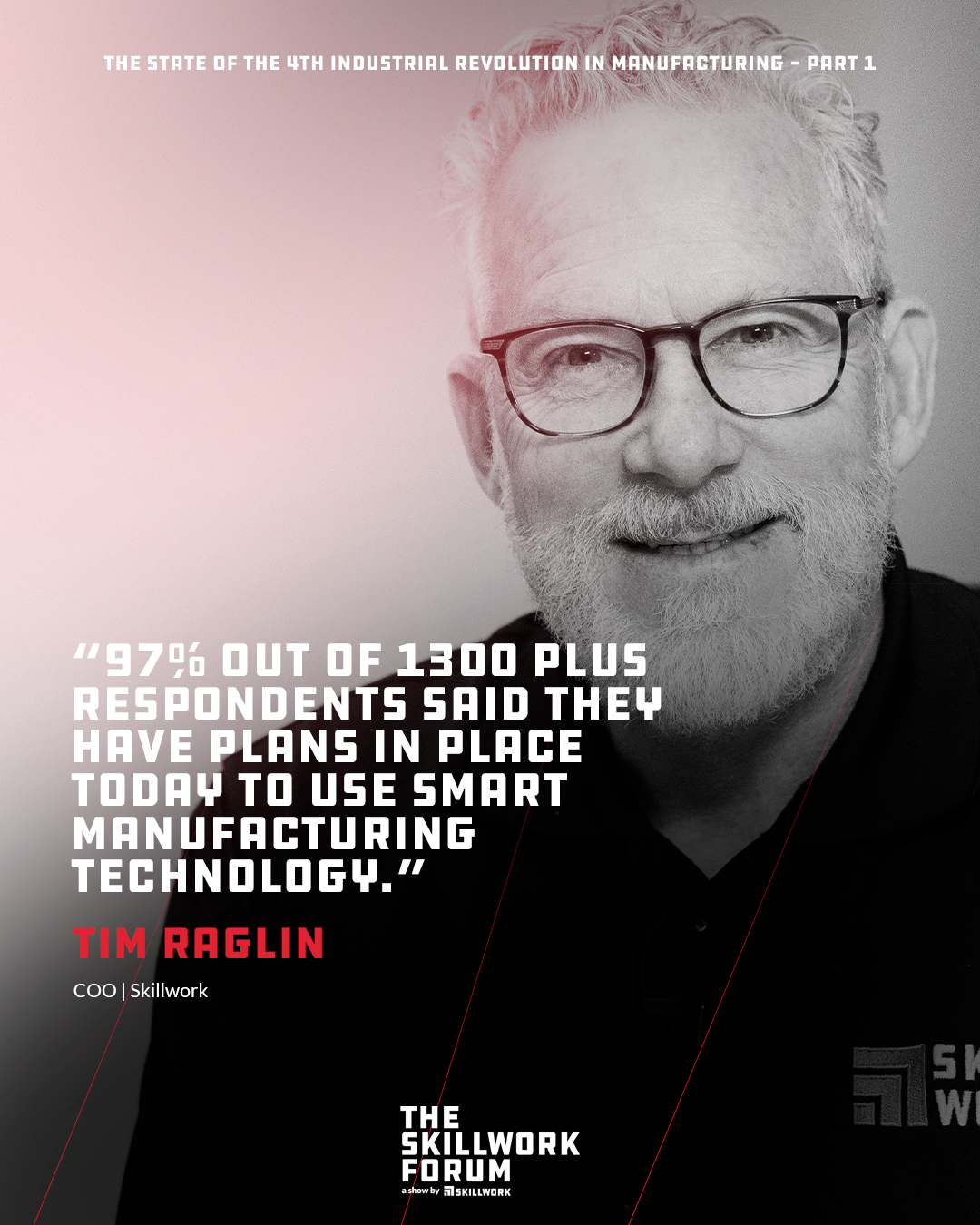 What Is Industry 4.0 and Smart Manufacturing?
Industry 4.0 and smart manufacturing go hand in hand, but they're distinct.
What is Industry 4.0?
"Industry 4.0" and "4 IR" are just different ways of referring to the Fourth Industrial Revolution. It basically promised to leverage advanced technology throughout production facilities and their operations to create efficiencies.
What is smart manufacturing?
Smart manufacturing refers to the specific Industry 4.0 technologies and practices used to achieve these efficiencies, such as automation, AI, advanced sensors, robotics, and smart machines.
Now that we've answered the question, "What is Industry 4.0 and smart manufacturing?" let's jump into some smart factory trends we gleaned from these reports.
Smart Factory Trends
Technology adoption
97% of 1,300+ respondents said they have plans in place today to use smart manufacturing technology. How will they use this technology designed for use in manufacturing? To (1) mitigate risk and (2) move more of their operations into the cloud. If you're unfamiliar with the cloud, basically, all of your technology is housed outside your physical premises. However, there are two sides to advanced technology. Yes, it can help mitigate risk, but it also opens you up to risk.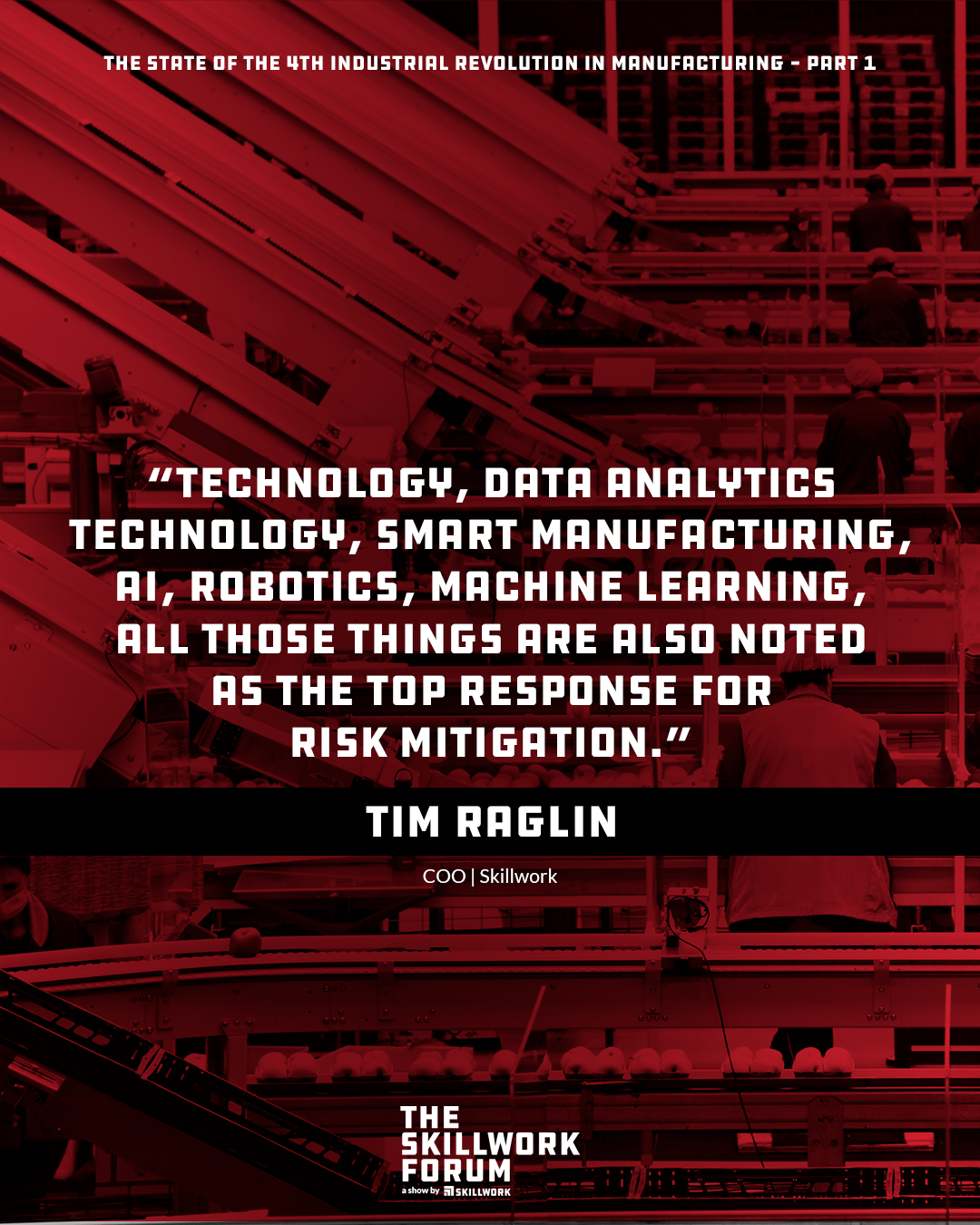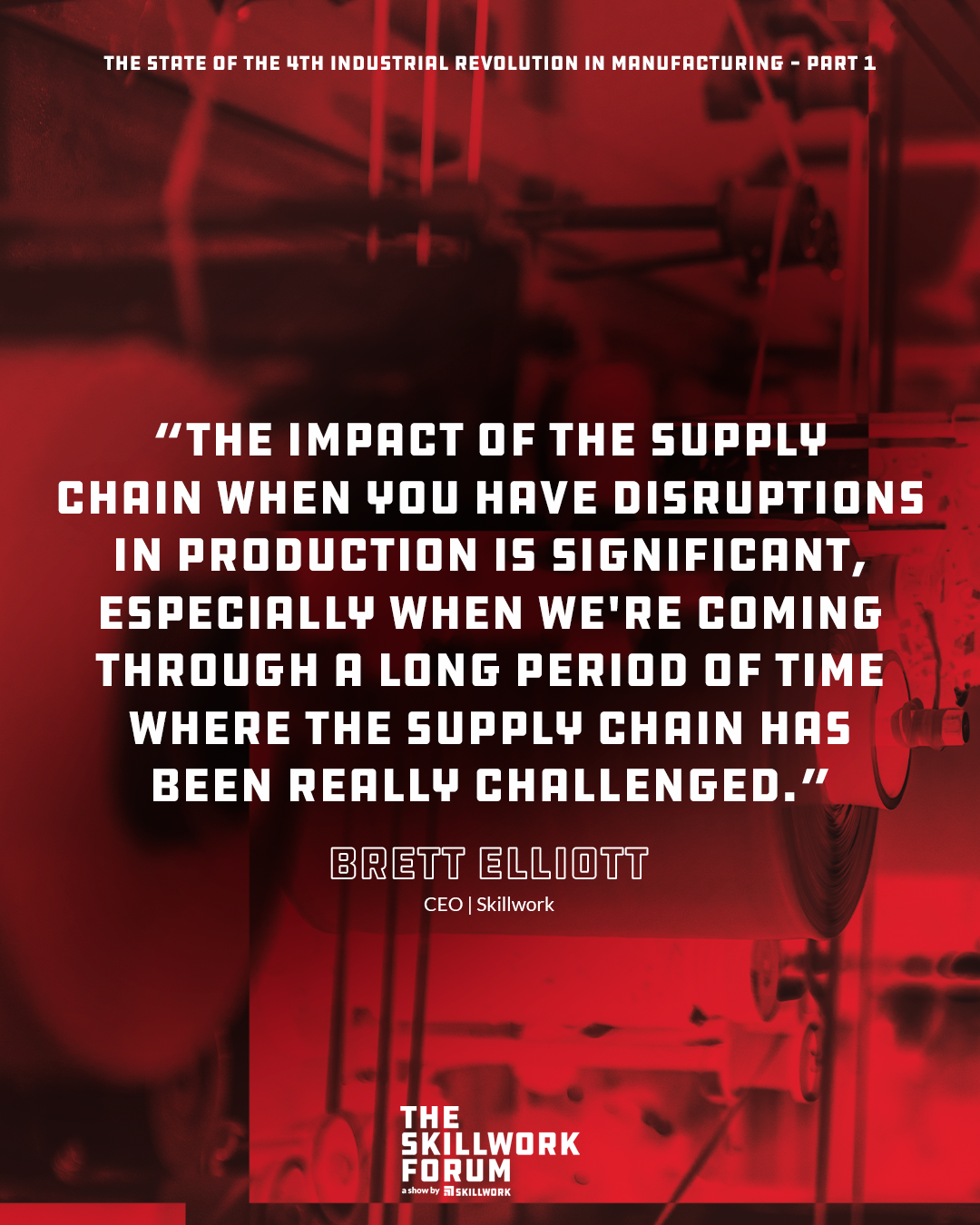 Cybersecurity concerns
Companies that are moving their operations to the cloud experience increased cybersecurity concerns. Ransomware attacks against manufacturers are on the rise. People are targeting manufacturing facilities, saying, "We're going to shut your whole manufacturing process down unless you send us a check for X amount of money." And companies have no choice but to pay it, so cybersecurity is a crucial investment as facilities adopt Industry 4.0 technologies.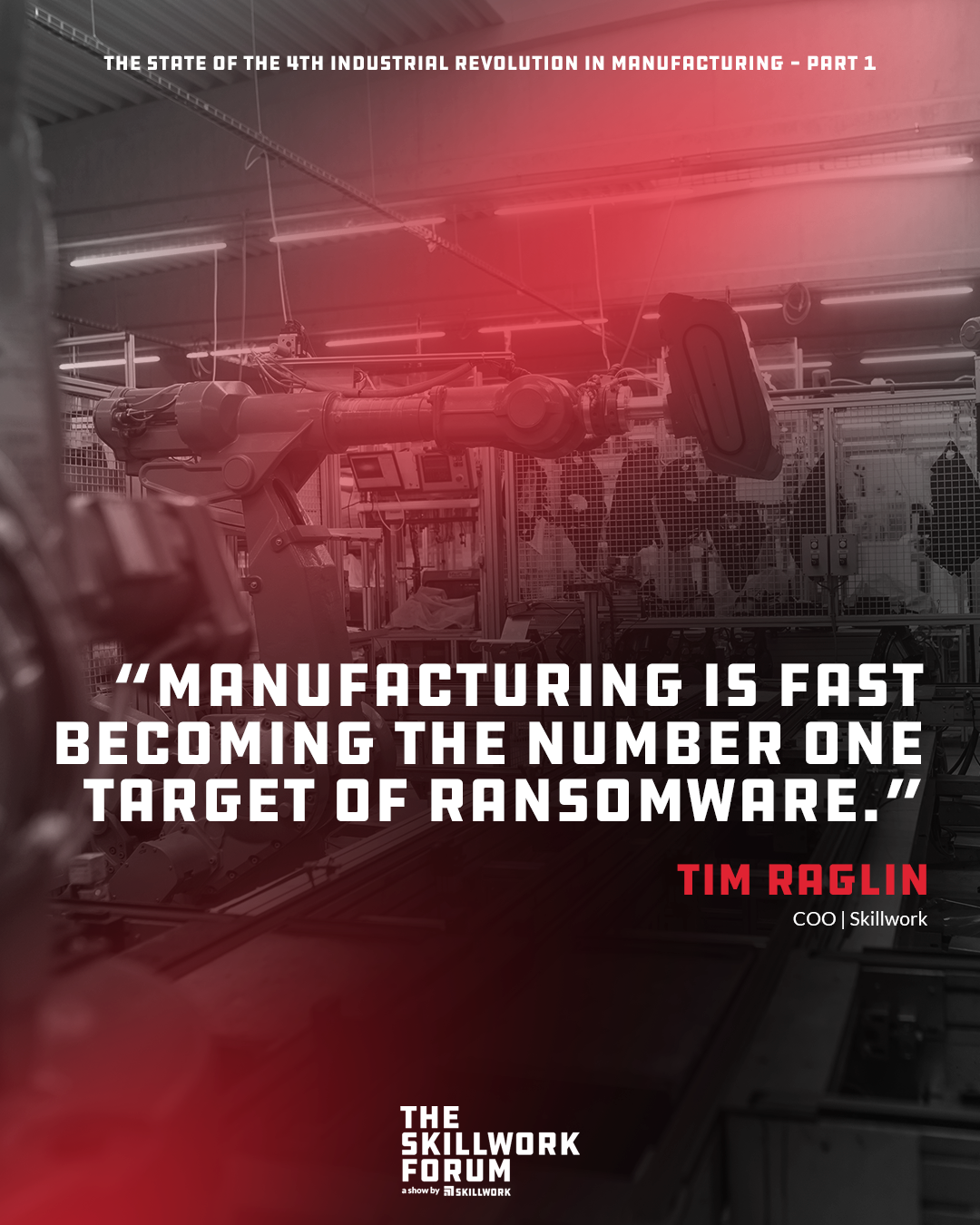 Employment growth
Some are resistant to Industry 4.0 manufacturing because they believe that these technological advancements may eliminate a lot of jobs. However, a whopping 89% of manufacturers expect to maintain or grow employment as a result of technology adoption. The reality is you're making these plants more efficient, creating more throughput, and with that, creating the need for more workers. But a different kind of skilled worker who knows how to use and maintain this technology.
Upskilling
One of the biggest concerns manufacturers have right now is that they lack the skill to keep up with their competition. Therefore, you must have a plan for upskilling your workforce and finding the talent to keep your facility running at pace. One way to do this is by using technology to get somebody up to speed quickly in a virtual environment. In short, technology literacy plays a big part in how manufacturers plan to address the workforce shortage and/or skills gap.
Quality management
Another factor in technology adoption we wanted to discuss is how we achieve these targets for profitable growth while maintaining high quality. Technology is, yet again, the answer. The reports both noted that those at the leading edge of smart manufacturing capabilities had invested heavily in production monitoring and quality management systems (QMS). A QMS can detect flawed products and pull them out way faster than the human eye could.
Safety
Safety's another big driver for why manufacturers are adopting smart technology. You can automate repetitive tasks, like boning, for example, that pose a safety concern, protecting your workers from harm. This commitment to safety is attractive to employees and lowers your MOD rate, so it hits the bottom line, which is one of the benefits of smart factory technology.
Thank you so much for your time and attention in listening to The Skillwork Forum as we shared some of our thoughts on the topic "What is Industry 4.0 and smart manufacturing?"
If you're interested in hearing from the voices of skilled tradesmen, check out our other podcast, The Proud Skill Worker. We believe it's really important to hear what they're thinking and seeing and how these transformations affect them.
We hope you tune in for part two of this conversation!