Why is it so Hard to Find Good Employees?

Skillwork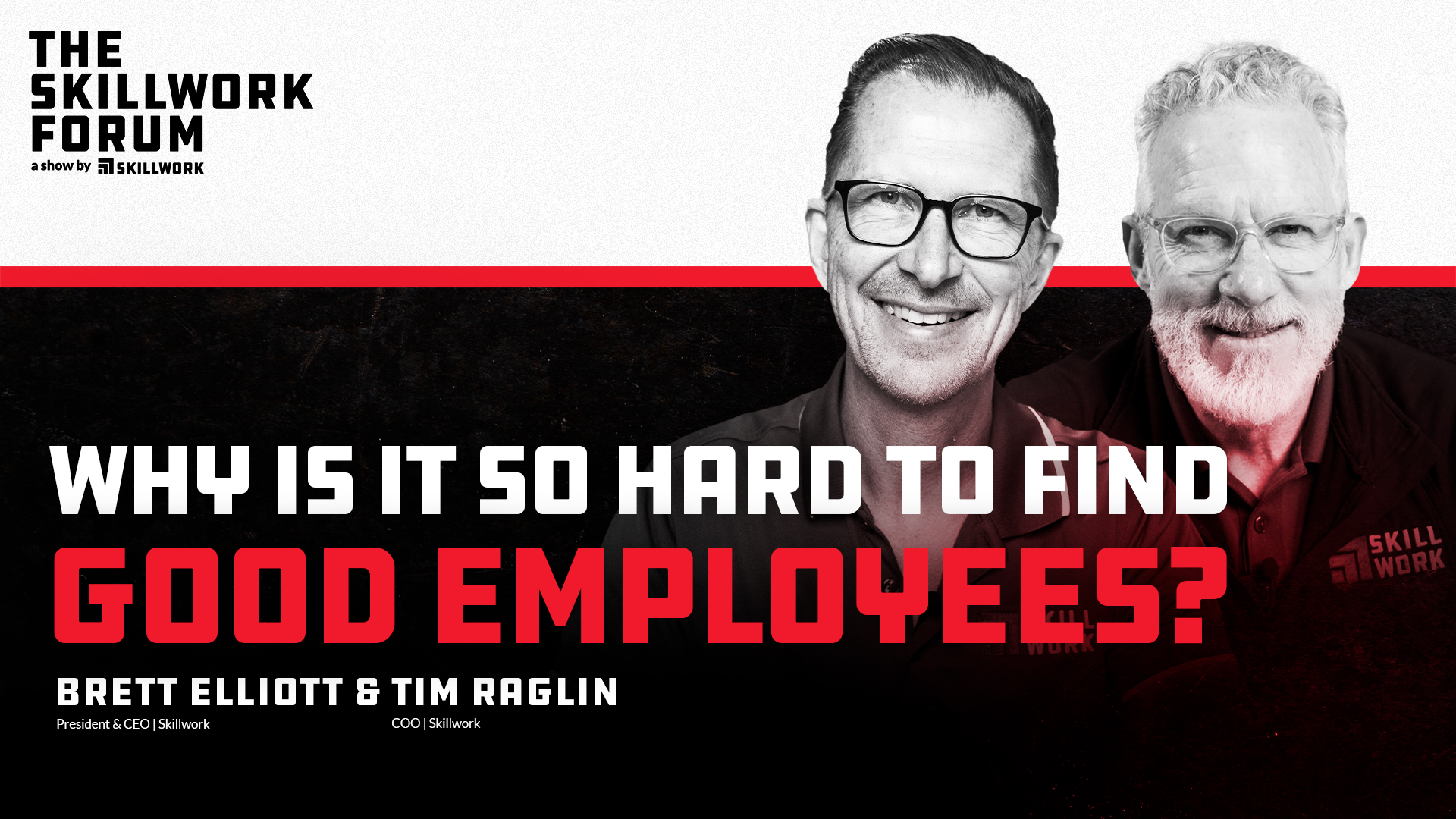 "Why is it so hard to find good employees?"
We hear this question on a near-daily basis.
In this episode of The Skillwork Forum, we go over some of the reasons why it's so hard to find good workers lately, as well as some things you can do to mitigate those challenges. Check the video out below, or keep reading the article for more.
In every sector across the country, companies are having challenges finding good workers, particularly in the skilled trades. Why is this happening?
Current job market
The labor market is surging overall
There was a recent June jobs report that showed strong growth in the labor market—about 372,000 to be exact. In manufacturing specifically there were 29,000 new jobs added, which was almost double compared to the previous month.
These are solid indicators of a surge in demand for goods and services. The post-pandemic supply issues are certainly driving the push for hiring and creation of new jobs. Still, there are over a million job openings in construction and manufacturing and not enough candidates to fill those positions.
Statistics are showing good job growth nationwide despite continuing labor gaps. So why are so many employers having such a hard time finding workers?
Fears of a recession
Inflation is the highest it's been for decades at 9.1%, and still growing. With this pattern, the Federal Reserve is likely to increase rates, which pushes us closer to a recession. We're seeing the biggest impact in consumer goods—gas prices, cost of food, airline tickets—and because of that, consumer confidence is pretty low.
That being said, competition for skilled workers was already fierce before these economic issues. Workers are going to be even more motivated by competitive pay and benefits with inflation directly impacting them and their families. This makes hiring more challenging for companies.
4 Reasons Why It's Hard to Find Good Workers
Supply and Demand
Sometimes the simplest answer is the correct one. At the end of the day, there are more jobs than there are skilled workers to fill them. This issue is growing because companies can't find the front-end labor they need, so they automate to keep things moving, but then they need more highly skilled workers to maintain the new systems, and the cycle repeats.
Tradesmen with highly specialized skillsets are in high demand right now. They have such a wide variety of job options that it's becoming highly competitive. This is great news for workers—less so for companies who are trying to hire and retain them. ADP quoted that 70% of workers have considered a major career change this year.
That makes a severe problem for companies trying to keep their existing workers.
You can be more competitive by:
Making your wages competitive relative to the national pay scale

Having first-rate onboarding and training to make a great first impression

Getting new employees involved with your culture right away

Offering competitive benefits

Making creative and flexible work schedules

Providing training opportunities and motivation for employees to do them

Investing in your employees with shorter-term bonuses and incentives

Not forgetting your current staff—they're also looking around
Some people are still in the "pandemic mindset"
There are those in the workforce that are still in the "pandemic mindset"—meaning, they're not ready to reenter the workforce. Regardless of their reasons, this is a legitimate contributing factor to the difficulties of finding good workers for companies.
Still others have determined that the convenience and security of working from home during the pandemic is something they want to continue. There are skilled workers who have changed careers to something they can do remotely, which has put more pressure on companies trying to find workers.
A recent Business Insider survey stated that 39% of employees were clear about quitting their job if not given the opportunity to work from home at least part of the time.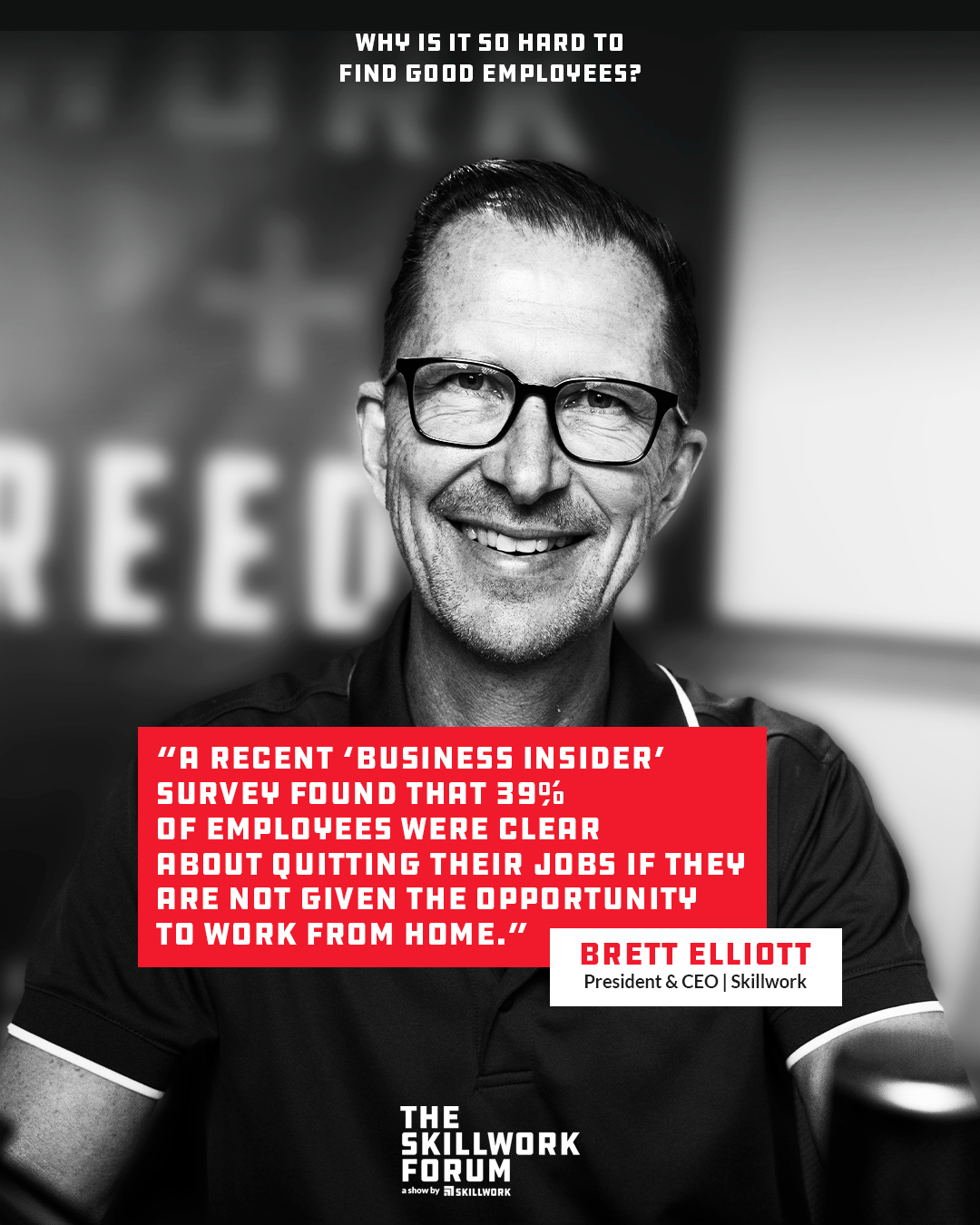 Take a look at your policies. Do they align with your culture, your mission, your values, your goals, your objectives?
Consider adjusting your policies as needed to be more accommodating to employees when you can—but this is particularly challenging for the trades, where the vast majority of jobs are on-site. At some point, you may have to decide to simply decide what works for your company culture and let the right people come to you.
Many hires don't work out
The fact is, many hires just don't work out in the long term. Turnover rates are high, culturally workers are expecting to change jobs much more frequently than older generations, and as things change with the Fourth Industrial Revolution, many workers don't have the skills companies are looking for.
The World Economic Forum projected that by 2022, 54% of employees would require reskilling and upskilling to cope with changing work environments. Well, 2022 is here, and many companies are coming face to face with the reality that the employees they hire don't always come with the necessary skills to get the job done at the level required.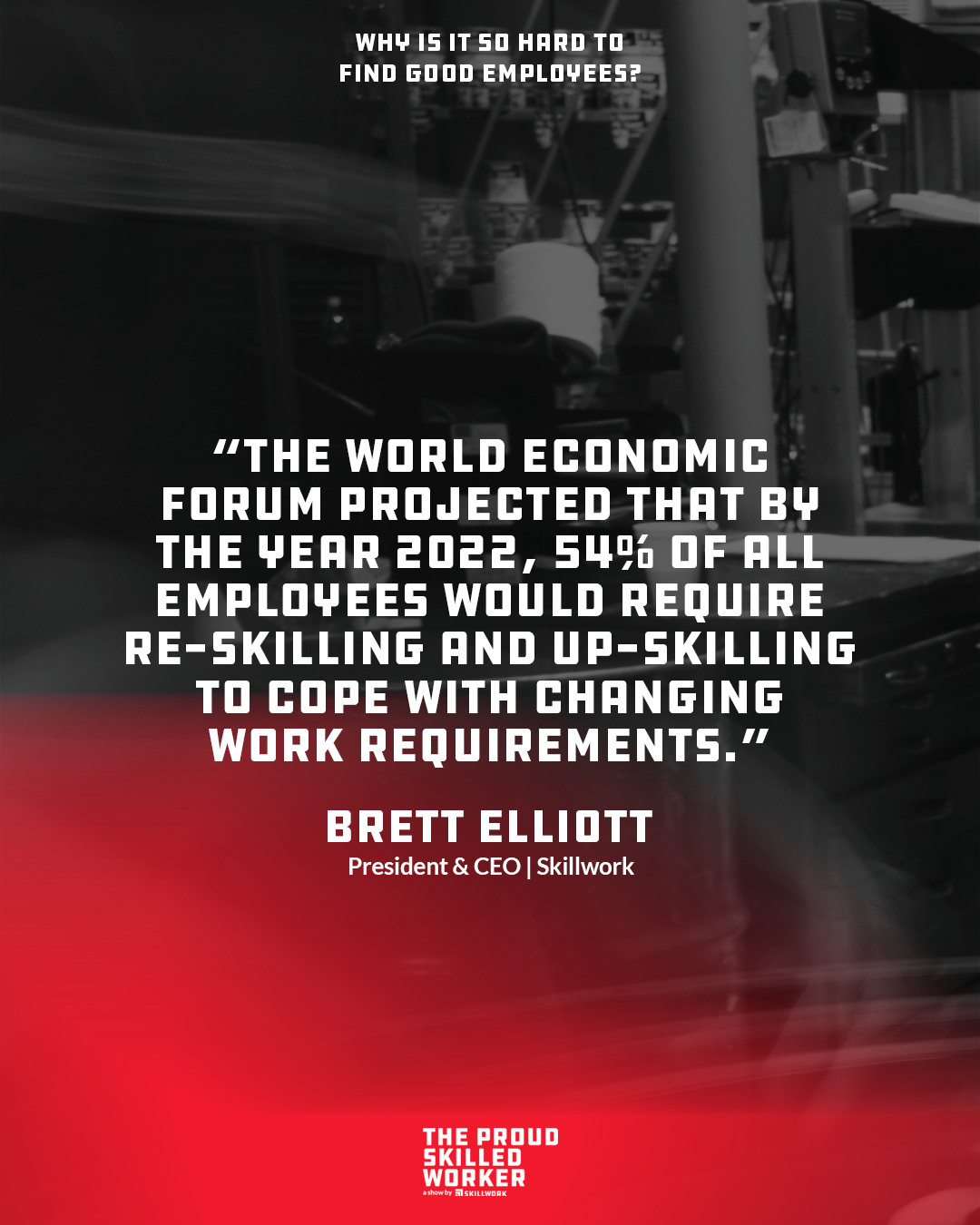 It's not just technical skills that need to be developed in that 54% of new hires—many employees struggle with the "soft" skills like leadership, critical thinking, showing up on time, conflict resolution, professionalism, and having a good attitude. You can manage this in a few ways:
Include a personality and aptitude test in your interviews to avoid a bad hire

Invest in new employees' professional development

Give new employees a 60 day trial period to see if it's a good fit for you AND them
Global demographics and workplace culture
There are millions of job openings in the trades nationwide—it's staggering. Where are skilled workers? We've talked about this in many of our podcasts, but the "Baby Boomer Exodus" is a huge driver of increasing job openings. Boomers still make up a significant portion of the workforce in the trades, and their retirement is putting immense pressure on the industry without enough younger people to fill their positions. Statistics show that there are 3 baby boomers retiring for every 1 new person entering the trades.
It's clearly a problem.
Additionally:
Population growth around the world is at its lowest in history

The pandemic has kept some people at home, by necessity or choice

There's a negative stigma surrounding careers in the trades, which further discourages young people from a trade career

Work ethic overall is waning
To combat these challenges, you can support your local vocational technical schools, push for changes in local high schools to encourage the trades, look for and celebrate new workers in the trades, or partner with an internship program that provides trade jobs for service members leaving the military.
Cultural shifts take time, but they CAN shift.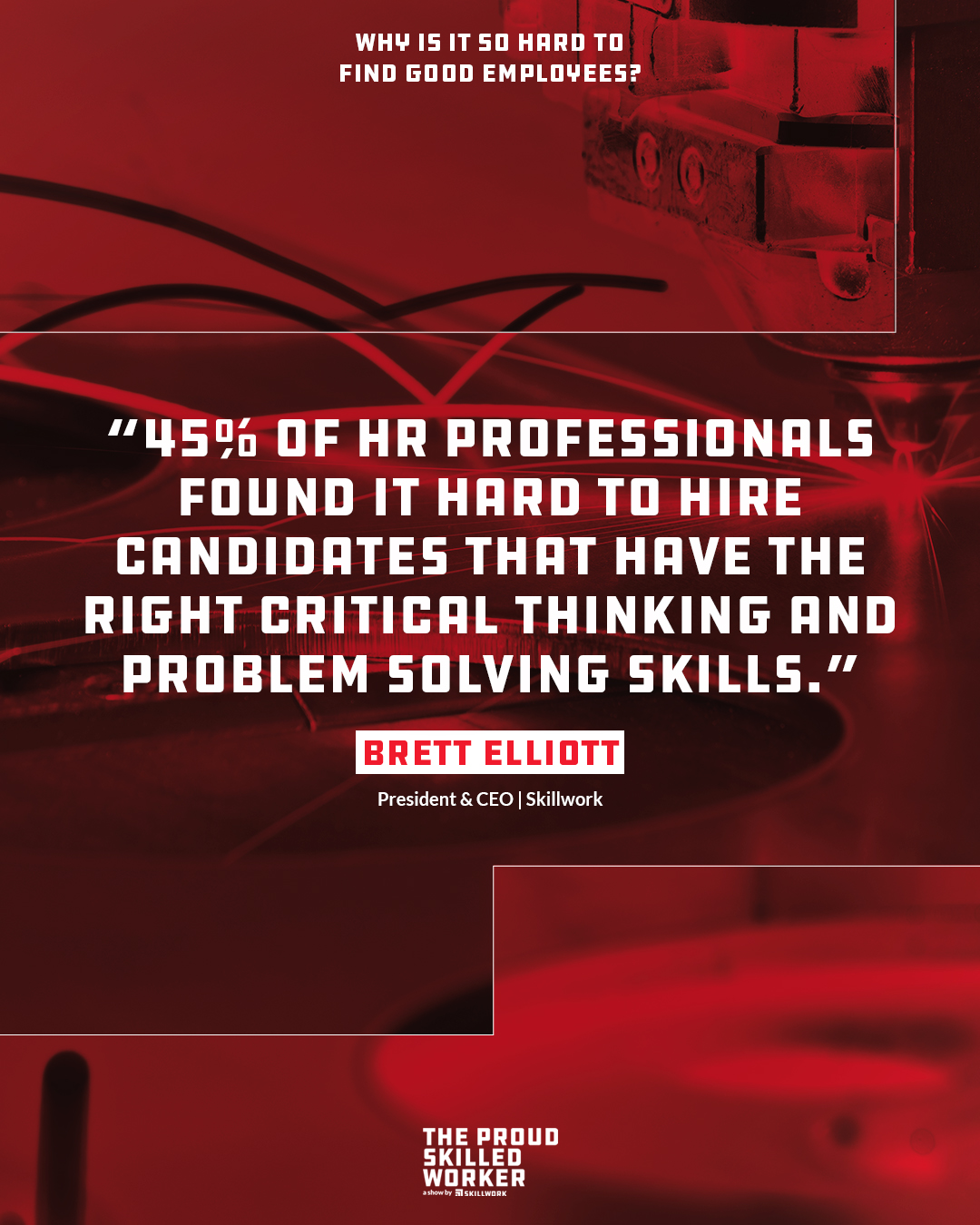 Outlook for finding workers
There are a lot a of challenges out there. We have economic headwinds, millions of job openings, and it's not crazy to wonder, "Why is it so hard to find good workers?". Pragmatically, it's probably going to get worse before it gets better. However, despite the shrinking workforce, there are things you can do to mitigate those setbacks and stay competitive.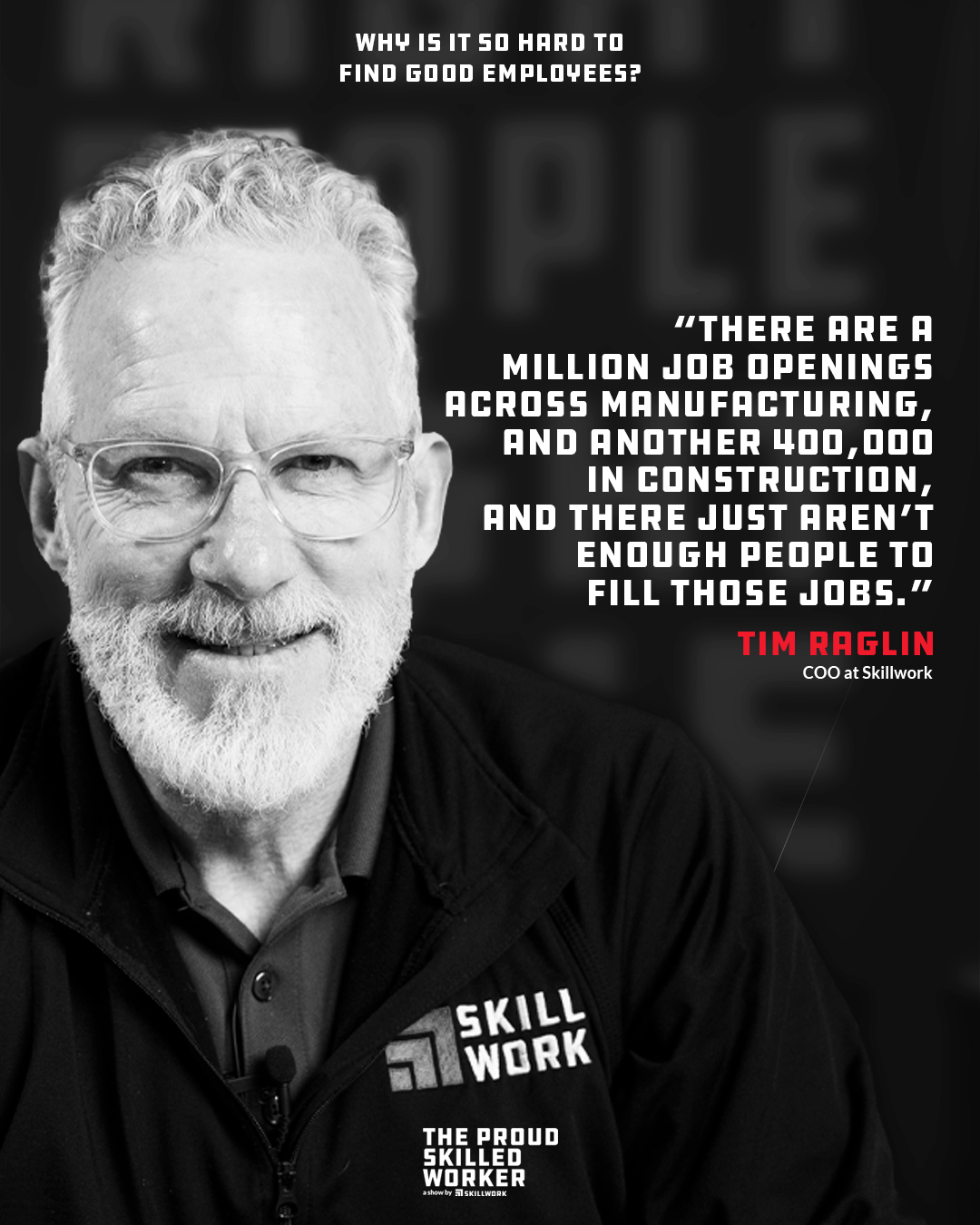 If you're still struggling to find skilled workers, reach out to us. We put in the work 24/7 to find great skilled workers that can help your company get the job done. In this turbocharged environment, everything counts.
Click here for an obligation-free consult with us!