Honoring The Trades And American Heritage - The Art Of Honor

Skillwork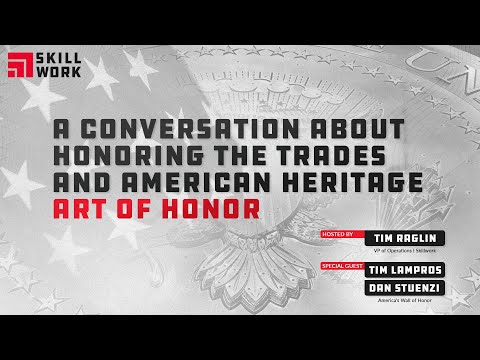 Skilled tradesmen making art that honors America's heroes and values? Count us in 👊
In our most recent episode, Tim Raglin sits down with Tim Lampros and Dan Stuenzi, the artist and business mind behind America's Wall of Honor. They discuss how Lampros used his military and trades background to create art that honors our fallen heroes and service branches.
He combined sanding, welding, and engineering to create a mobile monument that will travel to all 50 states, teaching patriotism to young and old alike. 🇺🇸
It's amazing to see the trades making an impact in every sphere of life and culture. This is an episode you don't want to miss. Also, check out their website for more information!
Main Takeaways:
🛠 Skilled tradesmen can use their skills to create art
🛠 Making art with the trades can honor fallen heroes
🛠 Skilled workers can learn from becoming "professional direction followers"
🛠 Design and engineering are required to build monuments and memorials
🛠 American core values define our businesses
Timecodes:
Quotes:
💬 "If you follow directions, you're going to gain skill, knowledge, and the ability to excel in what somebody is doing." - Tim Lampros
💬 "The skilled tradesmen and craftsmen built this country." - Tim Raglin
💬 "One of our main core values, and we are very proud about that, is to honor God in everything we do." - Tim Raglin
💬 "I don't care how highly skilled you are, if you're not friendly and nice, I don't want to work with you." - Tim Lampros
💬 "Being a professional direction follower is far more important than any skill that you come with." - Tim Lampros
💬 "America's Wall of Honor has the official seals of the Army, the Navy, the Air Force, the Marine Corps, the Presidential Seal for the Commander In Chief, Coast Guard, National Guard, one for Fire and Rescue and one for Law Enforcement." - Dan Stuenzi
💬 "At Skillwork we have three core values: it's to honor to God, respect and value skilled tradesman, and look for an opportunity every day to impact somebody's life in a positive way." - Tim Raglin
💬 "We're fans of art that is uplifting: spiritually, intellectually, emotionally." - Dan Stuenzi
💬 "Let's honor God, let's honor the people that have built America, and let's help other people." - Dan Stuenzi