2021 Skilled Labor Trends | What Should Business Leaders Expect?

Skillwork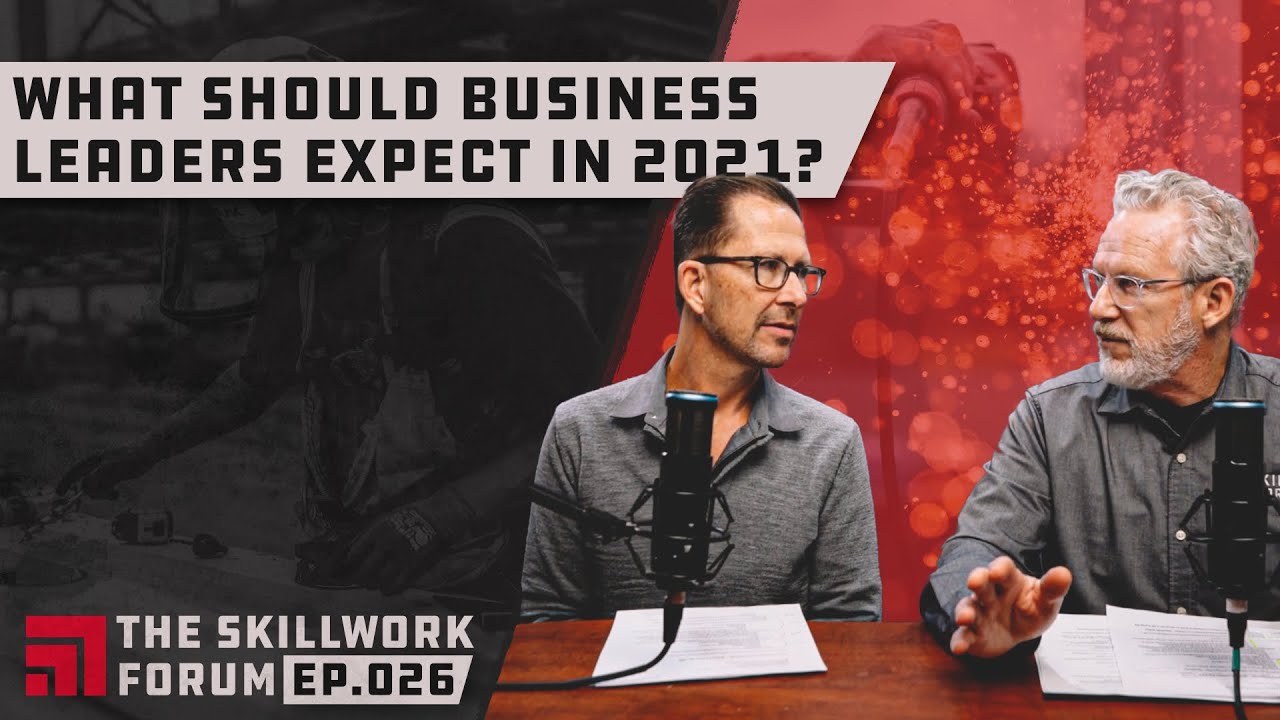 At the beginning of each year, we at Skillwork like to take some time to study and reflect on the previous year before considering the year ahead. It gives us an opportunity to not only celebrate our wins and learn from our mistakes as a company, but to take a forward look at the future of the labor market overall.
While COVID-19 threw a wrench in the mix, many of our predictions and expectations at the beginning of 2020 still came to fruition for those in the skilled trades arena.
As business leaders, we should always plan for the future but at the same time stay flexible and ready to adapt as things change around us. 2020 was a perfect example of how no one can truly predict how things will go.
Read on for a brief overview of 2020, and our thoughts on the skilled labor market trends that we expect to see in 2021.

Looking Back at 2020
Essential vs. nonessential businesses
With the economic shutdown in the early spring for all "nonessential" businesses, many companies that rely on skilled trade expertise were deemed "essential businesses/infrastructure". This was both a blessing and a challenge, as these companies had to figure out how to meet high demand amidst uncertainty, safety issues, and lack of personnel.
If 2020 revealed anything; it was the fact that the skilled trades are truly the backbone of America. The hard work and bravery of skilled craftsmen to continue showing up every day kept manufacturing facilities open and producing essential goods and services.
The overall performance of labor markets was better than leaders feared
The good news about 2020: the economy at the end of the year was in a better place than predicted when the pandemic began. That's not to say everything is booming—we're still only about halfway back to pre-pandemic levels at the onset of 2021. Much of America faces a long road back despite the strong rebound, but there is reason for optimism. Some sectors are ahead of projections and the backlog of work, especially in the construction business, is strong.
Next year's labor market will continue to expand, but the pace and strength will largely depend on the path of the virus, politics and policy in the new administration, and the extent to which pandemic-era behaviors like remote work become permanent. All of these are unknowns, but it's clear to see that the pandemic is diminishing, although still a huge impact. Also, it is clear that the new administration will bring back more regulation and policy oversight that will create business headwinds.
Predictions for 2021 in the Skilled Trade Market
The skilled labor shortage will continue
Unfortunately, the skilled labor shortage isn't going anywhere in 2021. We were already a million workers short at the onset of 2020, and we're expecting to see the supply lag behind pre-pandemic numbers for a few reasons.
We already knew that there was going to be a huge shortage of workers as baby boomers left the workforce over the course of the next 5-7 years. COVID-19 accelerated that timeline significantly, as many at-risk boomers were furloughed for a time for safety reasons. Now, many of those individuals are choosing an early retirement instead of returning to the workplace or choosing a different career entirely.
Still others are reluctant to return to work for health concerns, especially in jobs that require face-to-face contact or for those employees in at-risk populations. Since all of these workers left unexpectedly, there wasn't a smooth transition or time for them to train new employees to take their place.
Additionally, school and childcare closures have placed a heavy burden on families, making it more difficult to work or requiring caregivers to remain at home entirely.
Construction and manufacturing will look radically different than previous years
The need to create a safe work environment will change the face of construction and manufacturing this year. Whereas before there was a large network or revolving door of subcontractors, safety measures in the wake of the virus means these sectors will bring more work in-house and employ fewer subs.
Not only that, but the coming changes in technology are making the construction process a fully integrated ecosystem from design and development to construction and even tenant leasing. Everyone will be within that ecosystem.
This means that your internal teams have to be that much more interconnected and experienced in order to keep the same quality of work that you achieved before with a mix of employees and outside people. While your local labor pool may be limited, using a nationwide network of experienced skilled laborers through a company like Skillwork can bridge that gap in 2021.
New administration's policy changes will impact the trades
Change in the presidential administration almost always means change for the trade industries in the United States, and 2021 is no different. We're already seeing changes in policy and oversight in the energy and oil sectors, and that trend may continue across other industries. Skilled workers in those areas may need to shift their talent into other spaces.
While some of the oversight may prove a challenge for skilled trade businesses, the proposed $2 trillion investment in infrastructure will bring more demand for construction and manufacturing. Things like warehouse distribution centers, data centers, supply chain, and any business that supports the distribution of goods and services will see an increased demand.
The challenge will be that this increased demand will continue to outpace the supply of available workers. Smart business leaders will consider their hiring strategy and have plans in place to get the quality workers they need when that demand spikes.
The beginning stages of the Fourth Industrial Revolution
We've been in the process for some time now, but we expect to see a ramp up of technological changes that will pave the way for the Fourth Industrial Revolution. If you're not familiar with the term, we dedicated an entire podcast episode to the changes ahead for manufacturing.
The essential change will be a fusion of digital and physical manufacturing through the use of AI and sensors that will create interconnected ecosystem for manufacturing companies. This means you will be able to be more efficient in your facility, especially when it comes to maintenance.
Unexpected downtime costs manufacturing plants hundreds of thousands of dollars per hour. With the coming changes in technology, maintenance will be predictive instead of reactive. Imagine how much time and resource you could save by predicting the most crucial points of failure and fixing things before they break—that's what's coming in the Fourth Industrial Revolution.
We expect to see more of this in 2021.
2020's Winners, Rebounders, and Damaged Sectors
The coronavirus pandemic in 2020 had an impact on every business in America—but not all were affected equally. While some businesses were severely impacted and are still struggling in 2021, others came out ahead.
Winners: Businesses and industries that had a significantly good year in 2020
Big box stores
E-commerce
Transportation / Distribution
Rebounders: Businesses and industries that initially struggled, but started to come back in 2020
Suppliers
Restaurants
Clothing stores
Retailers
Non-essential medical manufacturing
Home goods and services
Damaged Sectors: Businesses and industries that continue to struggle into 2021
Hospitality and tourism
Entertainment and the Arts
Bringing It All Together
As we go into 2021, there are many things to monitor. However, there are 5 things in particular that we will continue to watch closely:
Effectiveness of the COVID-19 vaccines, the public's response to them, how the new administration handles things regarding the virus
New politics and policies, government spending and subsidies, regulations and oversight
Which things shift back to pre-pandemic "normal", and which things change permanently (travel, eating out, trade shows, etc.)
How different industries are trending – continuing to rebound or going into decline
Transportation/shipping industry: a harbinger of growth to come
In short, we're certainly glad to see 2020 behind us, and are optimistic about 2021. If you have any questions or thoughts on our predictions for 2021, or want to discuss your skilled labor challenges for this year, please reach out to us at www.skillwork.com/contact-us.