Skillbridge – A Pathway to Hire Former Military Members - With PJ Yuson

Skillwork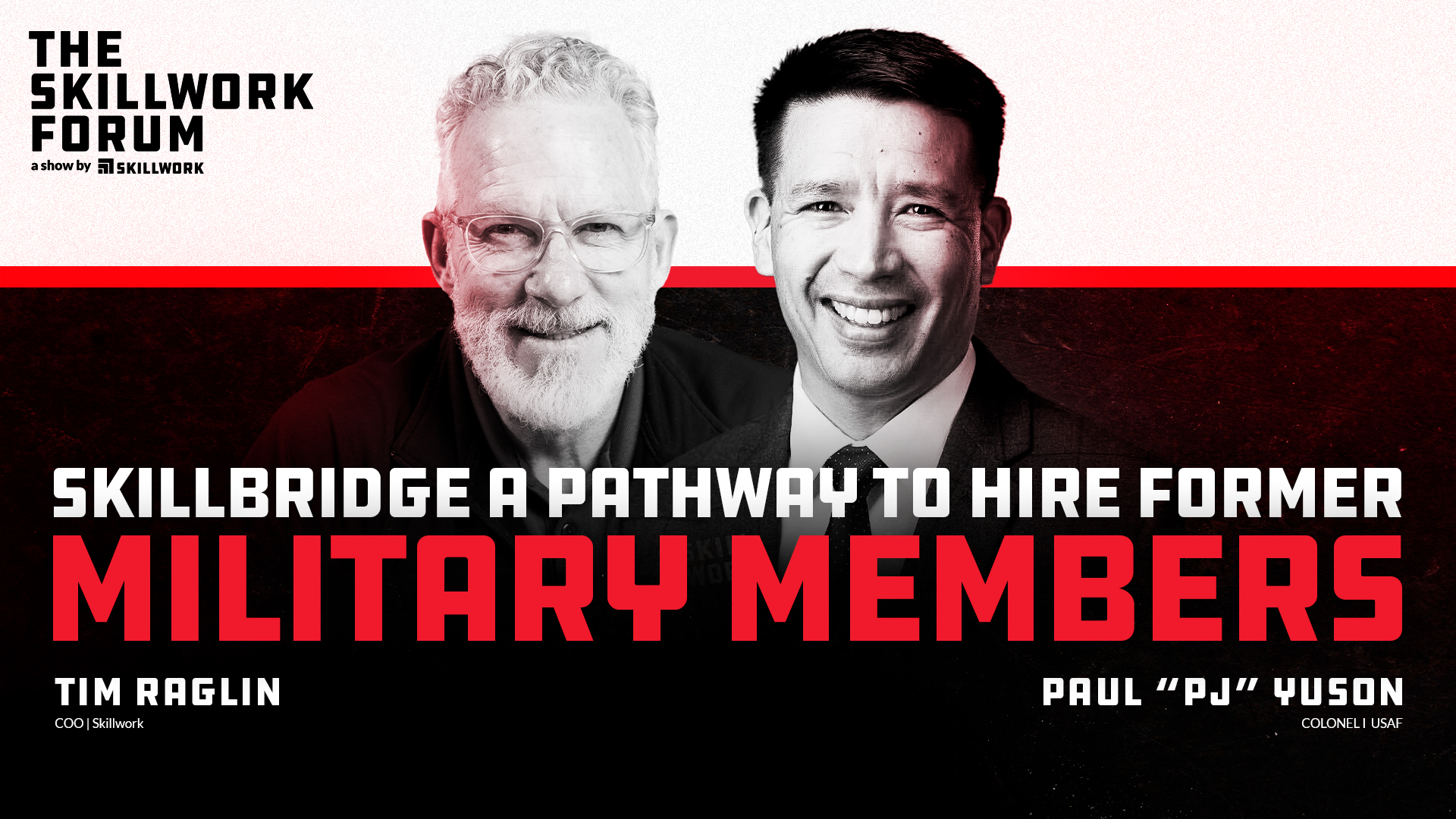 In our most recent episode, we sat down with Col. PJ Yuson, US Air Force, and discuss SkillBridge—a program dedicated to providing departing service members with job opportunities in the trades.
Check out the episode to learn more about SkillBridge, who it serves, and how your company can get involved.
Hiring Former Military Members through SkillBridge - with PJ Yuson
PJ Yuson is a Colonel in the US Air Force, soon to be transitioning from active duty after a distinguished career of 26 years. He and Skillwork Co-Founder Tim Raglin worked together in the past, and in this episode they discuss what PJ is working on now. This article is a summary of their conversation in the episode above.
SkillBridge
What is SkillBridge?
SkillBridge is a unique program started by the US Department of Defense (DoD) that provides internships for members of the military who are preparing to retire or end their service. They work with all branches of the military, not just the Air Force. If approved by command, military individuals will intern or apprentice for a skilled trade company in the last 180 days of active duty.
Companies benefit from their time with military veterans, who bring their work ethic and technical experience to the table, not to mention what is essentially free labor. Veterans benefit from finding opportunities for their post-military career and an easier transition to civilian life.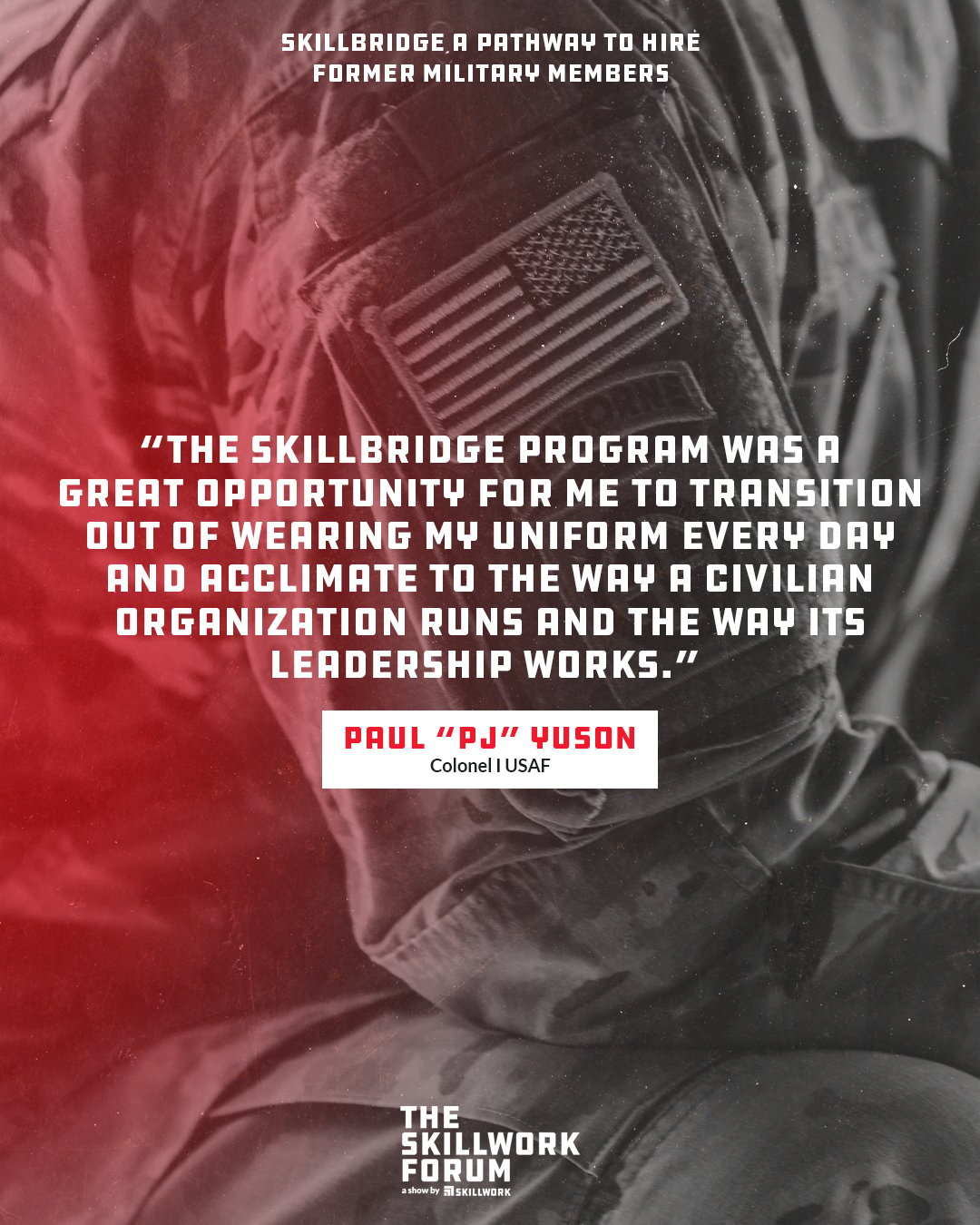 How does it work?
SkillBridge provides transitioning military members with pay, benefits, and everything they would otherwise get from their active duty job. The military members in turn work for a company that is roughly in line with their skills and experience from their active duty. Veterans can also use this program to get certifications and expand their skillsets.
While getting an internship through Skillbridge isn't a guarantee for a job placement, companies are required to offer an interview to military members who go through the program. In an ideal scenario, it's a great fit for both the company and the veteran and they can seamlessly transition to a permanent position after the internship ends.
Benefits for veterans
Another great aspect of SkillBridge is that it provides veterans with the opportunity to apply their military-specific skills—say, an aircraft maintainer—to something more practical in the civilian sector—like a mechanical electrical technician. They can also see how things run in a civilian organization compared to their years in the service. This time is valuable and often eye-opening to those transitioning out of the military, which operates very differently from non-military organizations.
Part of the internship is just learning the language of the civilian sector, which can take weeks or months for some depending on the industry. One of the benefits of the SkillBridge program is that by the end of it, veterans have a good grasp of how these companies work and what will work for their careers.
Why hire former military
Many companies, especially in the skilled trades, want to hire military. It's a win-win for everyone—the experience and character of veterans is at an extremely high level, making them excellent employees, and companies get to support US military personnel.
The biggest advantage to hiring military is the life experience. Even the youngest enlisted members who are 4-5 years out of high school have often had multiple combat deployments in that time. They've been around the world, worked with and for a hugely diverse population of people, and gained valuable skills.
Not only that, but formal military training puts immense responsibility on service members from a young age. They're trained to work hard, follow authority, work as a team, lead, and overcome any and all obstacles.
"A priceless aspect of military personnel is the fact that leadership is drilled into their heads. Even if you're a lower ranking member, you're still expected to lead." - PJ Yuson, Colonel US Air Force
In the civilian world, it may be years and years of work before someone is given the opportunity for leadership. For the military, that comes much earlier—an invaluable asset to companies looking to hire new workers.
How to get involved
For companies
If you're a company who wants to get involved with Skillbridge, you can start by going to their website. Practically though, these are the steps to getting started:
Sign a memorandum of understanding of what you do and don't owe the service member
Have a structured training plan of what service members will be doing for your company
It's a streamlined process. The DoD is making concerted efforts to benefit the 200,000 service members who depart every year. Not only does this provide for the veterans, but it sells the military as a valuable career with the seamless transition to civilian careers on the back end.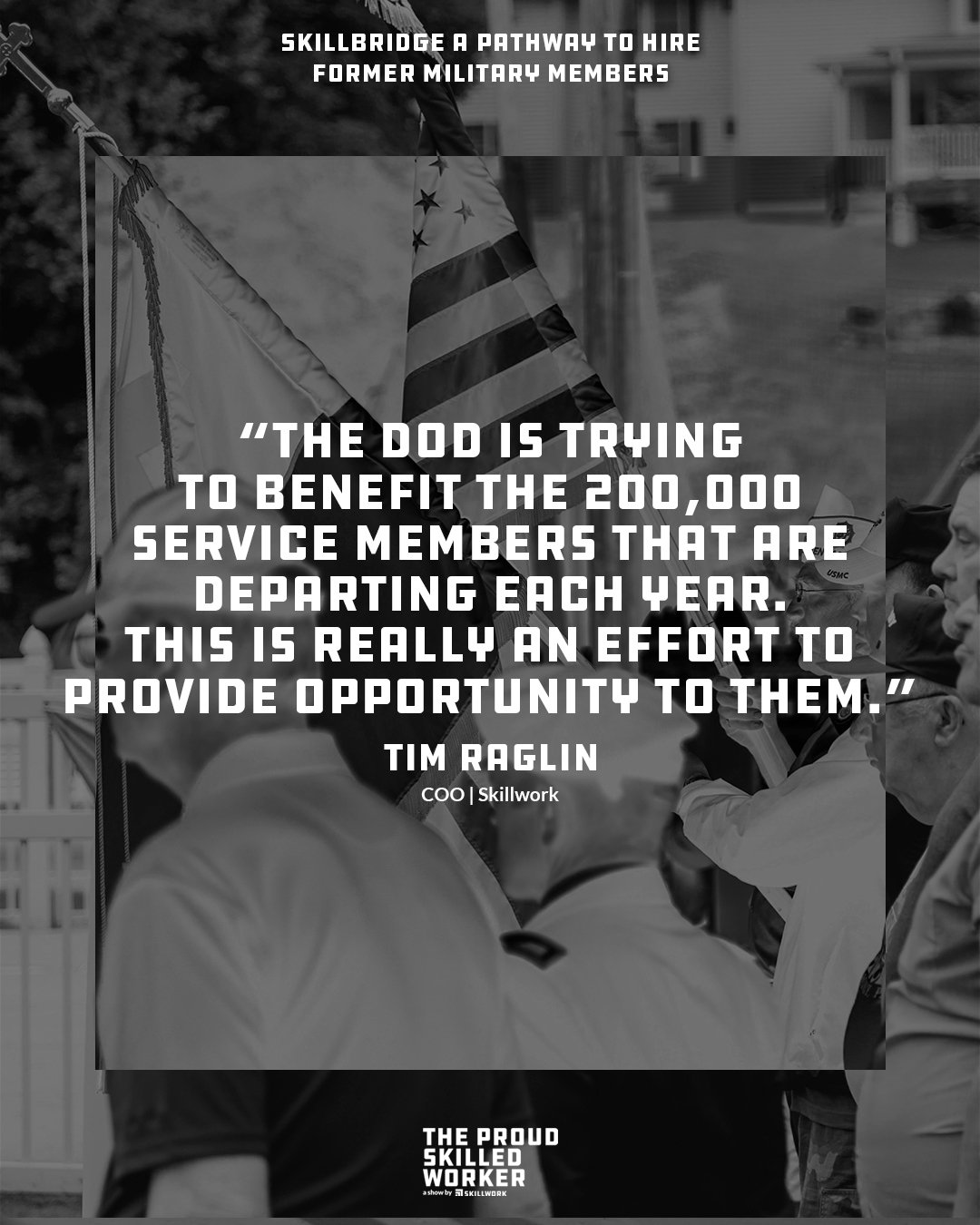 For military members
If you're an active duty service member looking to plan your life after the military, check out the Skillbridge website to learn more. At this time, SkillBridge is only for active duty members within 180 days of the end of service.
Most internships are from 2-5 months, and service members have a say in how long their internship will last. There are opportunities in:
Energy
Information technology
Manufacturing
Transportation
Civil service
Retail
and more
For veterans
If you're a veteran who doesn't qualify for the SkillBridge program, there are still many opportunities in the trades and companies looking for your experience and work ethic.
Skillwork is a veteran-owned travel staffing company for the skilled trades, and we care deeply about taking care of US veterans and bringing respect back to the skilled trades. Fill out an application today!