How to Get a High-paying Job in the Manufacturing Industry

Skillwork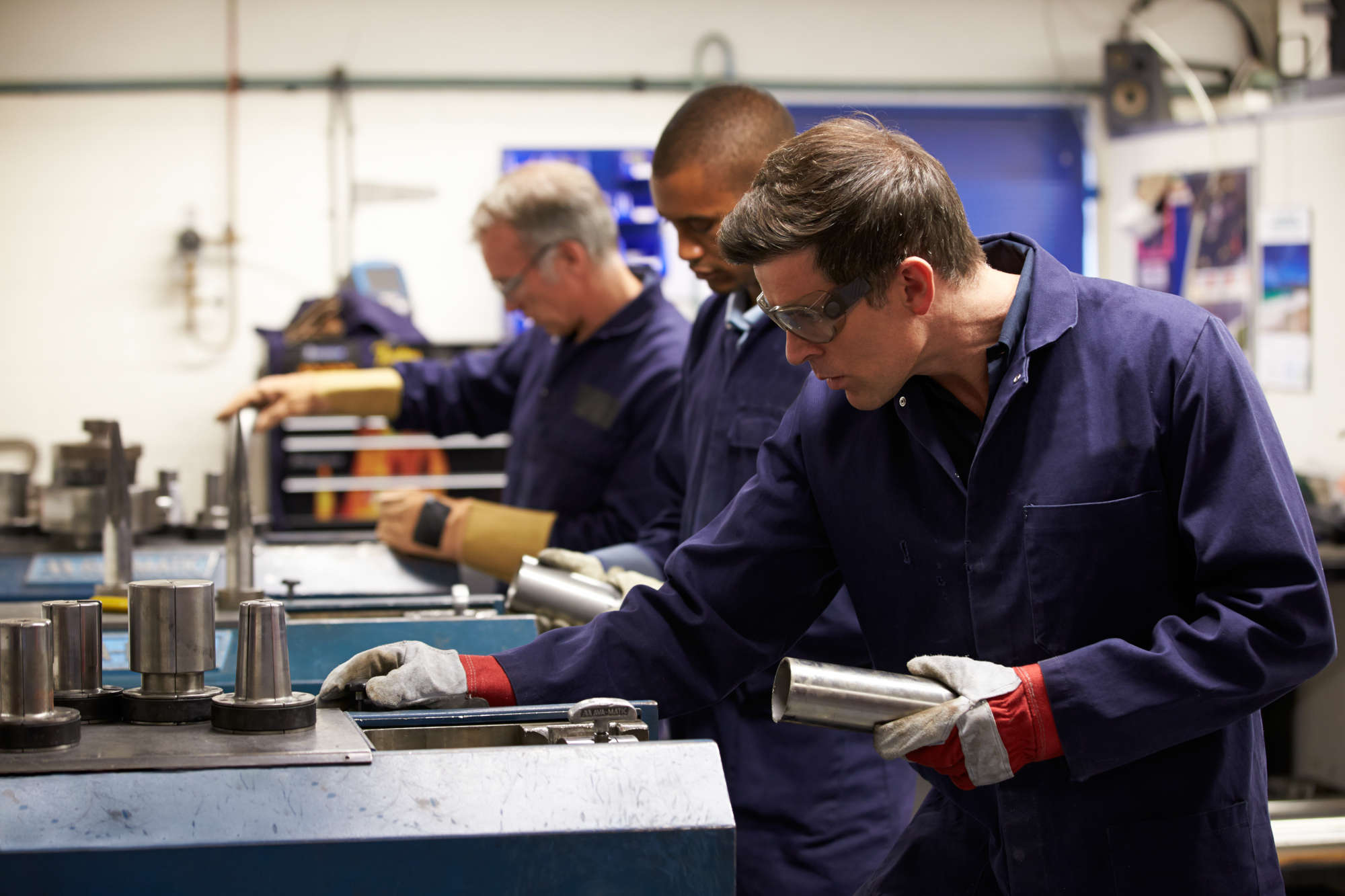 Are you wondering how to get a job in manufacturing that offers great pay and benefits?
The trades have long been undervalued. Though they're necessary for our country's growth and development, wages haven't increased as they should and our society has let false stigmas dissuade people from becoming skilled workers.
However, this is all beginning to change.
Across the board, trade skills are in great demand and being seen as more valuable. One industry that's becoming particularly lucrative for trade workers is manufacturing. Whether you're an experienced veteran looking for a new opportunity or someone who's simply searching for entry-level jobs in manufacturing, now's a perfect time to start the job hunt.
Are you interested in learning more about how to find factory jobs that pay well and provide other great benefits? If so, you're in the right place.
Here at Skillwork, we're experts when it comes to helping qualified tradespeople find the best jobs, so we thought we'd share some top tips on how to get a job in the manufacturing industry.
Keep reading to learn all about how to get manufacturing experience and land a job that you enjoy (and also pays well).
Why Work as a Tradesperson in the Manufacturing Industry?
Not sure why the manufacturing industry is such a great place to be?
Here's a more extensive list of reasons to continue your career in manufacturing or begin looking into it:
Wages are increasing: First and foremost, many manufacturing jobs are starting to pay very well. The

average wage for a maintenance technician is around $27-30/hour

. Many employers are also so desperate for workers that they're outbidding each other, with some paying upwards of $35-40/hr ($67,200/yr) for experienced tradespeople.
Employers are offering outstanding benefits: In addition to increased wages, employers are also providing more appealing benefits to their workers. Some of the new benefits include things like flexible work schedules, flexible PTO, and

employee assistance programs (EAPs)

.
Job security: There's also great job stability and security in manufacturing. The manufacturing industry is necessary to society so itisn't going anywhere. Even as technology advances, there will always be a need for workers to install, maintain, fix, and operate manufacturing machinery and systems.
Quick turnaround from school/training to a career: Lastly, most trades require some combination of a two-year associate's degree, an apprenticeship, and on-the-job training (with some only requiring on-the-job training). This means that you spend less time and money on education and start working sooner, but still make a similar salary to those with a 4-year degree.
Knowing the benefits of pursuing a career in manufacturing can be helpful. But it can also help to know specific jobs that are in demand.
Here's a non-exhaustive list of some of the top-paying jobs in manufacturing and their salaries:
Industrial maintenance technicians: $26.40/hour
Refrigeration technicians: $24.32/hour
Ammonia refrigeration specialists: $35/hour
General maintenance technicians: $19.46/hour
Machinery mechanics: $25.41/hour
Electrical instrumentation technicians: $32.48/hour
It's also important to note that wages for positions are still rising, and you can make more money by:
Gaining experience
Getting more certifications
Investing in upskilling
If you're already an experienced tradesperson who wants to increase your salary, you'll want to focus your time on certifications and upskilling. For those just starting out, experience and certifications are the best places to begin.
How to Get a Good Job in Manufacturing: 4 Steps to Success
Whether you're an experienced tradesperson or just starting a career in the trades, you don't need to settle for a job that's less than what you want.
Here's how to get a job in the manufacturing industry in four simple steps.
Think About What You Want
The first step is to think about what kind of job you want.
If you're just starting out in the trades, this might mean researching different skills and talking to people who are already in fields you're interested in. You should also consider:
What schooling or training is necessary
Projected job growth and future outlook
The day-to-day demands of the job (i.e. physical labor)
For anyone who's already working as a tradesperson but is interested in a new job or work environment, think about what changes would make your current job or situation better, like:
Money
Workplace culture
Benefits
Growth opportunities
Overall job satisfaction
Knowing what you want in a job can help you narrow down your search and get to the right job faster.
Complete Necessary Schooling, Training, or Certifications
Once you've decided on which trade skill or new job you want to pursue, you'll want to work on any requirements, training, or certifications.
For those new to the trades, this may require enrolling in a vocational or technical school for a year or two. You may also need to get certain certifications or find an apprenticeship (which will often turn into a full-time job).
If you're already an experienced skilled worker, it might be necessary to get new certifications in order to switch jobs. Or, if you want to get into an entirely new trade, you may need to enroll in a trade school. However, you should still be able to work in your current trade while upskilling or learning a new trade.
Apply for Jobs
Once you've finished your initial schooling/training or have completed certifications for the jobs you want, it's time to start finding and applying to manufacturing jobs.
Not sure how to find factory jobs and apply for them?
The traditional ways of finding and applying for jobs in the manufacturing industry involve:
Going to job fairs
Using online job sites
Contacting companies who are hiring
You can find a job using these methods, but you will do a lot of the legwork yourself.
There's a better way to find high-paying jobs without spending your own time and energy, especially for those who already have some experience—working with a skilled labor staffing agency, like Skillwork. These agencies take time to understand what kind of job you want and then use their network to find positions that fit.
Prepare for the Interview Process
Both individual companies and staffing agencies have an interview process to get to know you personally and professionally. The interview is a time for the company or recruiter to better understand whether you're a good fit for the company and can handle to demands of the job. It's also a great opportunity for you to share your skills and experience.
Some common questions you might be asked include:
What do you like most about your trade/field?
How do you handle working under pressure or in situations that have a hard deadline?
Has there ever been a time when you didn't know what to do? How did you handle that?
Tell us about a time when you had to problem-solve. What did you do?
You may also be asked more technical questions related to your specific trade skill, so be ready to talk about specific processes, procedures, systems, etc.
Whether you're applying for jobs yourself or planning to use a recruiting agency, you'll want to do some interview preparation to set yourself up for success.
Apply for High-paying Jobs in the Manufacturing Industry Today
Jobs in the manufacturing industry can be incredibly lucrative. They also provide tradespeople with:
Good benefits
Upskilling opportunities
Job security
A quicker route to a good salary compared to a four-year degree
Some of the highest-paying entry-level jobs in manufacturing include:
Maintenance technicians
Machinery mechanics
Electronic instrumentation technicians
Most tradespeople can also increase their salaries through upskilling, certifications, and getting more experience in their trade.
If you're not sure how to get a job in manufacturing or switch careers as a tradesperson, you can follow these four steps:
Think about what you want
Complete necessary schooling, training, and certifications
Apply for jobs
Prepare for the interview process
One of the best ways to get a job in manufacturing that pays well is to partner with a skilled labor staffing agency.
At Skillwork, we connect qualified tradespeople with jobs that pay well and provide great benefits. Our process is simple and straightforward:
Fill out an application
Complete an online assessment
Get matched to opportunities that fit your skills and desires
Those who work with us often make up to $18/hour more than elsewhere, and our travel model provides you with opportunities to work in environments all over the country.
Contact us today to talk with a Skillwork Recruiter and let us help you get the job you want.