How Much Do Manufacturing Supervisors Make?

Skillwork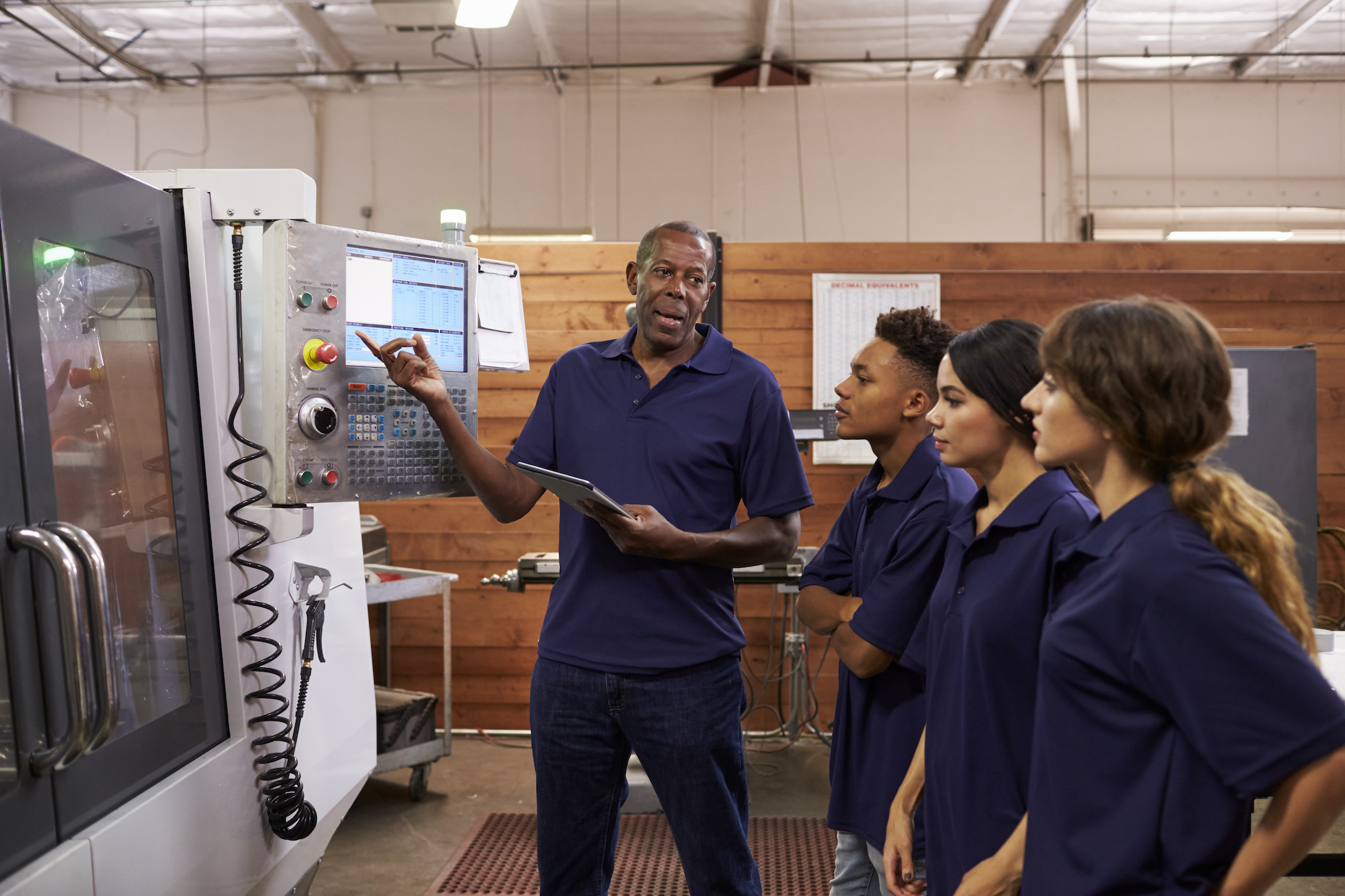 Are you looking for a job as a production supervisor but want to learn more about the position before applying? In this blog, we cover everything you need to know about becoming a manufacturing supervisor:
What is a production supervisor?
What are a production supervisor's responsibilities?
What are desirable production supervisor skills?
How much does a manufacturing supervisor make?
First, we'll define who a production supervisor is, then we'll get into the job description for a supervisor in manufacturing.
What Is a Production Supervisor?
A production supervisor is a management-level employee responsible for overseeing the day-to-day operations of the production process on a manufacturing floor. From managing staff to troubleshooting problems, a production supervisor is the one in charge of it all.
Some manufacturing companies may call the role of a production supervisor:
production manager
factory supervisor
manufacturing supervisor
These all refer to the same job. In this blog, we'll use them interchangeably.
Production supervisors spend most of their time on the floor with the production team, increasing efficiencies while maintaining the product's quality and ensuring employee safety. They also work as liaisons between different departments and suppliers, making strong communication skills vital.
Job Description for a Supervisor in Manufacturing
In this section, we list a production supervisor's skills and duties and estimate a manufacturing supervisor's salary. That way you can determine if you will be a good fit for the role of production supervisor.
Duties of a Factory Supervisor
Below we've made a list of production supervisor responsibilities so that you'll know what to expect if you get the job.
Supervise. Oversee all aspects of production in the facility, emphasizing quality and performance.
Manage production team. Hire, train, delegate, team up, and correct staff as needed.
Troubleshoot. Find prompt solutions to issues as they arise on the production floor, whether it be malfunctioning equipment or team conflicts.
Communicate. Clearly communicate to employees and executives, keeping everyone informed as to the work being performed.
Maintain quality standards. Ensure production processes and inspections are being followed to maintain quality standards.
Compliance. Comply with workplace standards such as OSHA regulations and customer requirements.
Reduce downtime. Prioritize preventative maintenance so that machines are kept in working condition, reducing production downtime.
Meet deadlines. Monitor production workflow and delegate work to your team accordingly to meet deadlines.
Reporting. Collect data about production and report on it to upper management.
Production Supervisor Soft Skills
Every production supervisor must be qualified through education, training, experience, and/or certifications. Aside from technical abilities, production supervisor skills must include soft skills.
Strong communication skills are the mark of a good production supervisor. As a manager, the duties of a factory supervisor include interacting with people above and below them. They must be able to clearly and confidently relay information across all levels of the company.
A factory supervisor needs to be punctual, setting an example for their team. Even more importantly, they need to keep projects on schedule. If not, that's when communication comes into play. Good supervisors ensure that their production team works efficiently to reduce downtime and hit deadlines.
Problem-solving is a skill most companies want employees to have. It involves identifying an issue and finding a satisfactory solution. People who can effectively problem-solve think outside the box to find innovative solutions to complex problems.
A supervisor in manufacturing will be required to make decisions quickly and under pressure. Being a confident decision-maker will make jobs run smoothly. When decisions are made, production supervisors must be able to anticipate problems and outcomes and then take ownership of the results—good and bad.
In manufacturing especially, the smallest defect can have massive impacts on the safety and effectiveness of the final product. Production supervisors must have an eye for detail, paying attention to the little things. They should know whom to put in charge of quality assurance, making sure they are also detail-oriented.
Now that you know the job description for a supervisor in manufacturing, let's answer your burning question, "How much do manufacturing supervisors make?"
How Much Does a Manufacturing Supervisor Make?
According to Zippia, the average manufacturing supervisor's salary is $72,000 per year, which is just about $35/hour. Entry-level manufacturing supervisors make closer to $50,000 per year. Use Zippia's calculator on their website to estimate and answer the question, "how much does a manufacturing supervisor make?" state by state.
As another point of reference, Glassdoor estimates that a manufacturing supervisor's salary in the U.S. is $67,129 per year, slightly less than Zippia's estimation. Glassdoor also splits a manufacturing supervisor's salary between total pay ($51,652) and additional pay ($15,477), including commissions, profit sharing, bonuses, etc.
As with any job, the salary is dependent on factors such as location, experience, and skill sets. Are you looking for a job as a production supervisor? Get in touch with Skillwork.
How to Get a Job as a Manufacturing Supervisor
Can't find construction or manufacturing jobs? Skillwork can help you find trade jobs across the country.
Even if you're a qualified production supervisor, it can be difficult to find the right company. The skilled worker shortage is no myth, and employers are desperate to find qualified tradesmen. But you want to work for a company that values your expertise, not one that's hiring to fill open positions as fast as possible.
At Skillwork, we make finding the right trade job easy. We're a travel staffing agency dedicated to sourcing jobs exclusively for tradesmen across the U.S. We know how to get skilled workers the best, highest-paying trade jobs around the country. With our unique approach to skilled labor staffing, you can expect to:
Learn new skills
Build your resume
Explore our travel model
Land the best paying trade jobs
Get hired for in-demand trades quickly
Connect with a recruiter today to learn more about getting a job as a production supervisor.