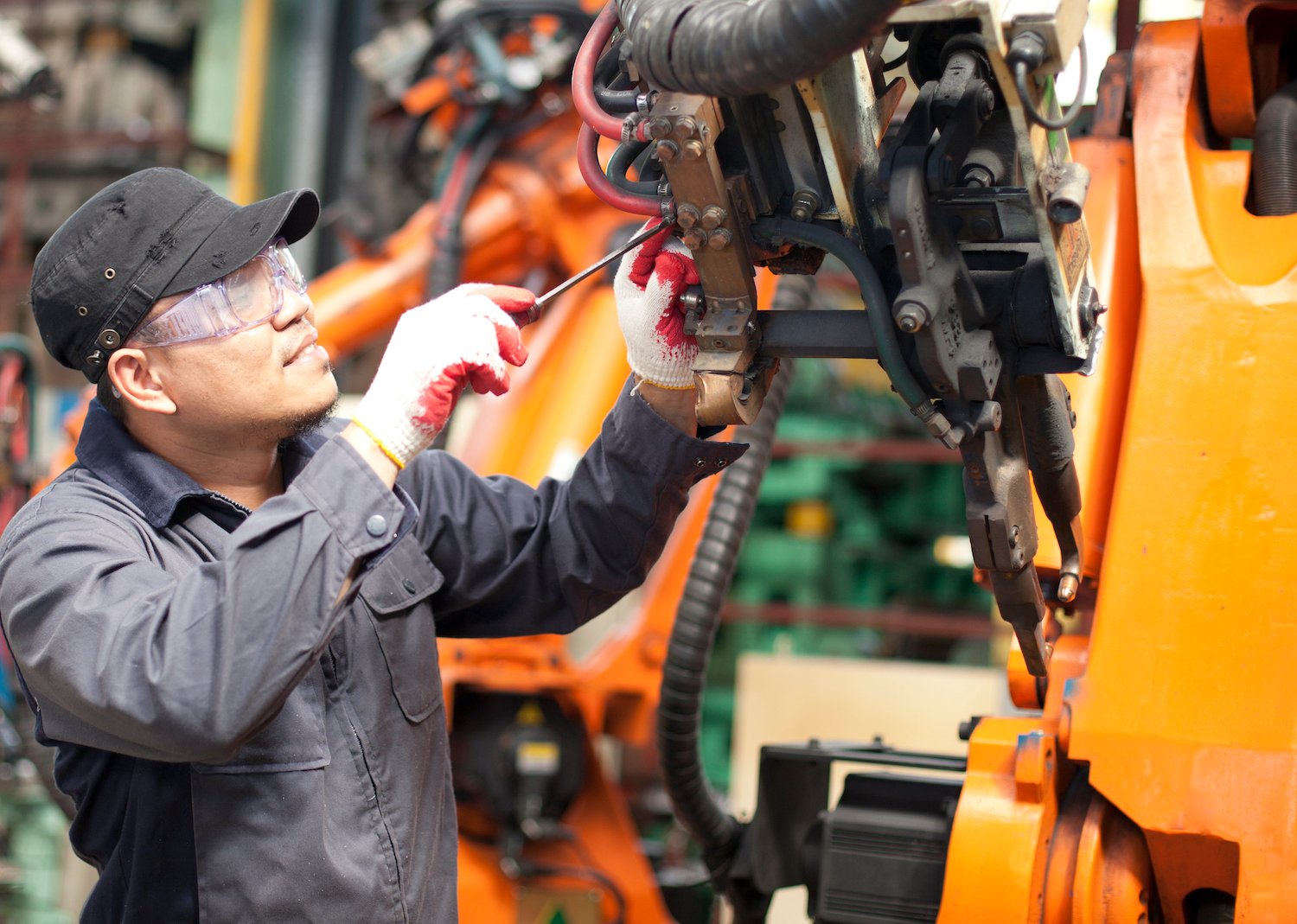 The manufacturing industry is filled with all sorts of tradesmen who have unique specializations—all being crucial to a seamless operation. In this blog, we discuss everything you need to know about millwrights. Here's what you can expect to learn:
What is a millwright?
What does a millwright do?
What is a millwright job vs. an industrial maintenance technician?
How to become a millwright
Where to apply for millwright jobs
Let's start by defining what a millwright is, then dive into the details of this factory job.
What Is a Millwright?
From large automotive assembly lines to intricate electronics manufacturing setups, millwrights understand the ins and outs of machinery.
The evolving landscape of manufacturing, driven by advancements in technology and automation, means that machinery is constantly updating and upgrading. As factories embrace the Fourth Industrial Revolution, millwrights are not only responsible for installing, maintaining, and repairing machines but also carefully disassembling them to make space for new ones.
Millwrights are continually learning and adapting, making sure they are well-versed with the latest in machinery and tech innovations. Their role ensures that the factory stays at the forefront of these innovations by introducing cutting-edge machinery to keep manufacturers competitive.
Millwright Job Duties
So, what does a millwright do, exactly? Millwright job descriptions may vary since every employer is different, and each will have unique qualifications. Here are some general millwright job duties you can expect when pursuing a millwright career:
Assemble and Install: Millwrights excel at putting together pieces of hefty machinery like a giant mechanical puzzle. They follow intricate blueprints and technical guides to ensure everything fits just right for smooth functionality.
Preventative Maintenance: Millwrights regularly inspect, lubricate, and fine-tune machinery to prevent potential issues. This proactive approach helps minimize downtime and optimize operational efficiency.
Troubleshooting and Repairs: When machinery malfunctions, millwrights step in as problem-solvers. Armed with extensive knowledge of mechanical systems, they skillfully diagnose issues and restore operations.
Disassemble: When it's time for an upgrade or maintenance, millwrights dismantle machines with precision, ensuring that each part is handled carefully and organized properly for storage or reassembly.
Precision Calibration: Using precision tools and techniques, millwrights align and calibrate machine components to ensure they operate as designed, minimizing wear and tear on parts.
Blueprint Reading: Millwrights are fluent in technical blueprints, manuals, and schematics. When working with machinery, they decipher these guides to make sure the specifications of each machine are spot-on.
Upgrading and Retrofitting: As technology evolves, millwrights make sure manufacturing isn't left behind. They're experts at upgrading and retrofitting machinery to keep up with the times, seamlessly integrating modern advancements.
Now, looking at these millwright job duties, you might see some similarities with the work of industrial maintenance technicians. Let's briefly review how these trade jobs differ.
What Is a Millwright Job vs. an Industrial Maintenance Technician?
Millwrights and industrial maintenance technicians – or industrial machinery mechanics – are often used interchangeably because of their overlapping job duties. However, their scope of work isn't the same. They both work with heavy machinery, but industrial maintenance technicians have a more narrow focus than millwrights.
A millwright's job duties are more comprehensive, assembling, installing, repairing, and performing preventative maintenance on factory equipment. Industrial maintenance technicians, on the other hand, specialize in diagnostics and reactive repairs across a broad spectrum of equipment.
Both roles are integral to maintaining industrial operations, with millwrights laying the foundation and industrial machinery mechanics addressing the ongoing maintenance of intricate machinery systems.
Now that you know the answer to "What is a millwright?" and what they do, we're going to explain how to become a millwright.
How to Become a Millwright
Is "millwright" a good job? Assessing whether becoming a millwright is a good fit for you involves considering various factors, including your skills, interests, job market conditions, and personal preferences. In light of the skilled trades shortage, now is the time to pursue a career in manufacturing—and a millwright career is a great option to look into.
Let's review some of the steps you can take to pursue a millwright career.
Step 1: Earn a High School Diploma or GED
A high school diploma or equivalent is typically the minimum educational requirement for entering the field. Focus on math, physics, and mechanical-related courses to build a strong foundation. Becoming a millwright can be a good trade for young adults or high school grads who don't see themselves at a 4-year college.
Step 2: Gain Experience
You can gain experience in a few ways if you're just starting out:
Pursue Technical Education: While not always mandatory, completing a formal education program in millwrighting can provide a strong advantage. Look for vocational schools, community colleges, or technical institutes offering millwright career programs.
Become an Apprentice: Some millwrights jump right into an apprenticeship program, which typically takes four years to complete. An apprenticeship combines classroom instruction and hands-on training under the guidance of experienced millwrights.
On-the-job Training: Gaining real-world experience is incredibly valuable in the trades. You may also consider applying for entry-level jobs where you'll learn the trade as you work alongside experienced millwrights and different types of machinery.
Step 3: Acquire Certifications
Certifications can enhance your employability by differentiating you from other job candidates. Look into certifications offered by organizations like the National Center for Construction Education and Research (NCCER) for millwrights. Continuing education and professional development will keep you competitive in the industry.
Step 4: Develop Specializations
As you gain experience, you might want to specialize in a particular industry or type of machinery. Specializations can open up more opportunities and potentially lead to higher earning potential.
If you're already a millwright or looking to enter the industry, contact Skillwork to learn more about open opportunities across the United States.
Apply Now for Millwright Jobs Across the U.S.
As a skilled labor travel staffing agency, Skillwork places tradesmen in short- and long-term positions across the country. By traveling from gig to gig, you'll gain diverse experiences in new places that expand your skill sets, all while making a great wage.
Once we learn more about your skillsets, experience, personality, and preferences, we can match you with a job that fits your criteria.
Our open positions are always changing as employers come to us looking for workers. We encourage you to apply now to join our network of Skillworkers and speak with a Skillwork recruiter about your eligibility for any millwright jobs we have available.