How to Become a Skilled Worker and Find a Trade Job

Skillwork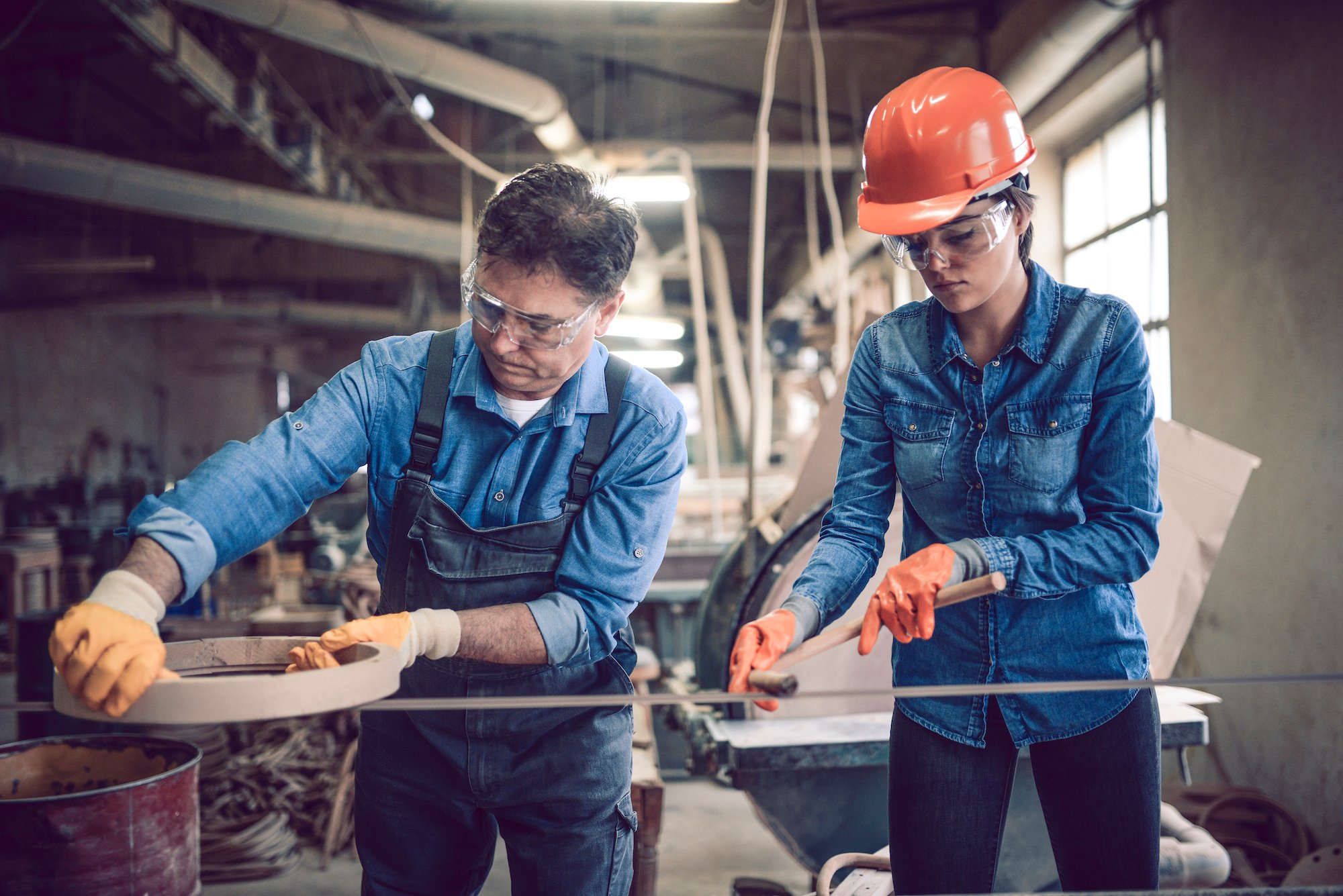 A recent Korn Ferry report found that by 2030, more than 85 million jobs could go unfilled because there aren't enough skilled people to take them. Yannick Binvel, president of Korn Ferry's Global Industrial Markets practice, says that organizations must prioritize talent strategy, taking steps to educate, train, and upskill their existing workforces.
The trades, in particular, are experiencing a significant labor shortage. As experienced laborers retire, fewer and fewer young people are choosing trade careers to replace them. Analysts predict that over 3 million skilled trade jobs will remain unfilled by 2028. This means that trade jobs will continue to be in high demand.
Although the skilled labor shortage is no doubt a stressor for employers and the economy, it's good news for people asking, "How do I get into the trades?" With the deficit in skilled workers, there's plenty of opportunity for unskilled individuals to obtain trade skills training and learn a trade fast.
Keep reading to learn how to become a skilled worker and how to get a trade job.
What Are Trades?
A skilled trade is any occupation that requires specialized skills gained through experience, apprenticeship, or technical school. Trade jobs are often more physically demanding than traditional jobs because they're generally hands-on.
The trades include a wide range of occupations from manufacturing and construction to sailing and hairstyling. If you aren't sure which jobs are considered trade jobs, we've compiled a list of trade jobs in various industries to consider.
Agriculture Skilled Trades
Farmer
Agricultural equipment technician
Animal husbandry
Logging worker
Professional fisherman
Construction Skilled Trades
Carpenter
Electrician
HVAC technician
Pipe fitter
Roofer
Manufacturing Skilled Trades
Welder
Tool and die maker
Ironworker
Millwright
Service Skilled Trades
Dog walker
Landscaper
Chef
Esthetician
Hairstylist
Medical Skilled Trades
Dental hygienist
Massage therapist
Radiation therapist
Licensed practical nurse
Physical therapy assistant
Transportation
Bus driver
Flight attendant
Sailors and mates
Truck driver
Air traffic controller
Now that you know what the trades are and a list of trade jobs to consider, let's answer the question, "How do I get into a trade?"
How to Get Started in a Skilled Trade
It's important to remember that skilled trade jobs still require education even though they don't require a college degree. Learn how to get a trade job by following one of these three career paths.
On-the-job Training
Some things can't be learned in books; that's why not all trade jobs require you hold more than a high school diploma. Given the skilled labor shortage, skilled trade employers want entry-level hires to learn a trade fast, so they train them on the job. On-the-job trade skills training is great for those who learn best by using their hands and practicing. Alternatively, you can attend a trade school or become an apprentice.
Trade Schools
Technical colleges, also known as "trade schools," are post-secondary educational institutions that offer skilled trade career training. Unlike a traditional college or university, a student's curriculum exclusively focuses on the specific occupation they're pursuing. Students typically complete their program at a trade school in two years or less. The average cost of a trade school education is $33,000.
Apprenticeship
Apprenticeships are common in the trades. An apprenticeship is an "earn as you learn" program that combines on-the-job training with structured classroom or online learning. Apprentices "graduate" in three to seven years with industry-recognized credentials that help them secure a job. According to Apprenticeship.gov, 94% of apprentices who complete an apprenticeship land a job with average salaries of $70,000.
Now that you know how to get a trade job, we'll explain how to find a trade job using a recruitment agency.
How to Find a Trade Job: Your Search Ends With Skillwork
Once you've gained industry experience or graduated from a trade school or apprenticeship, it's time to find a trade job.
At Skillwork, we help tradespeople find the highest-paying trade jobs across the U.S. Using a proprietary travel staffing model, we connect qualified workers with employers all over the country who need skilled laborers and are willing to pay top dollar. On average, our tradespeople make $18/hour more than they would if they worked with another recruitment agency.
We put you first by making sure that every job opportunity we send your way aligns with your current skill sets and long-term career goals. Are you ready to put your skills to the test and make good money doing it? Contact us to talk with one of our recruiters who can share more about how Skillwork can help you apply to trades jobs today.